Investigations of money laundering by organised criminals and terrorists are being distracted by the flood of low-level 'suspicious activity reports', the Law Commission has said in proposals for more targeted anti-money laundering laws. Current reporting requirements also place an 'onerous compliance burden' on the regulated sector, including law firms, the commission said. It cites Law Society research which found firms spend an average of four hours a week discussing suspicions of money laundering and making disclosures.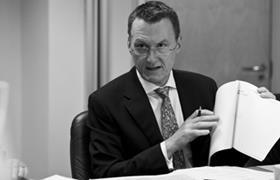 It notes that, while the legal sector does not produce the same volume of suspicious activity reports as the financial sector, those that are submitted may be more complex in nature. 'The amount of resources required to conduct due diligence and lodge these disclosures may not be proportionate to the value of the criminal property involved or the seriousness of the crime in every case.'
In proposals for changes to the Proceeds of Crime Act and the Terrorism Act published for consultation, the commission suggests:
Statutory guidance on what to look for and a set format for submitting suspicious activity reports,
Asking whether new tools could help enforcement like US-style geographic targeting orders,
A new power to require additional detail and record keeping requirements targeted at specific transactions,
Cutting back on low quality reports by focussing on accounts where there are reasonable grounds to suspect property is criminal property,
Legal protection for banks which choose to lock into an account the suspected criminal funds but leave the rest of the account open to trade thereby minimising the risk of severe financial loss for those who are the subject of a disclosure providing detail as to what amounts to a defence of 'reasonable excuse' for not making a suspicious activity report,
Asking whether commercial organisations, rather than the individual employees, should be liable for failure to prevent a criminal offence when an employee fails to disclose a suspicion.
Law commissioner Professor David Ormerod QC said: 'The reporting scheme isn't working as well as it should. Enforcement agencies are struggling with a significant number of low-quality reports'. Such 'noise' distracts attention from the most serious or urgent cases, he said. 'We're determined to make the law work for everyone and find a balance which will tackle money laundering more effectively and help keep the UK at the centre of the financial world.'
The closing date for responses is 5 October.