The Solicitors Regulation Authority has widened the areas of law under which firms will be required to publish prices - and firms have six months in which to comply.
The regulator said today it had made the decision after 'engaging with' more than 21,000 members of the public and the profession.
Under the plans, firms will now be required to publish the prices they charge and 'what these prices cover'. Firms failing to comply could face enforcement action.
However, rather than applying just to conveyancing, wills and personal injury as had initially been proposed, the new rules will now cover conveyancing, probate, motoring offences, immigration advice and the cost of bringing claims before an employment tribunal.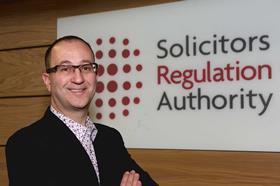 Crispin Passmore, the SRA's executive director for policy, said the decision to expand the areas of law that fall under the price publishing scope was taken after feedback suggested consumers wanted more information. From its research, the SRA said 85% of people it engaged with wanted more information readily available – including on price.
However, Passmore said there will be no requirements on exactly where firms publish their information. 'As long as the information is on the website then firms are complying with what we asked,' he said. 'We will only take enforcement action if firms refuse to comply or if they mislead the consumer.'
All regulated firms will be required to post prices and what they cover for:
The public: conveyancing, probate, motoring offences, employment tribunals (claims for unfair or wrongful dismissal) and immigration (excluding asylum).
For small businesses: debt recovery (up to £100,000), employment tribunals (defending claims for unfair or wrongful dismissal) and licensing applications for business premises.
The SRA will no longer impose a requirement for firms to publish details of first-tier client complaints.
However, a new searchable register providing information on all solicitors and regulated law firms in England and Wales, including any regulatory matters, will be created, as will a requirement for firms to display a digital 'regulated by' badge.
The proposals will now be submitted to the Legal Services Board for its approval.
The decision was confirmed on the same day as the SRA and Legal Ombudsman published new research showing consumers want clearer information about cost when purchasing legal services.
The study found decision data from the complaints handler was valued and used by consumers, but further action was needed to improve price transparency.
Wanda Goldwag, chair of the Office for Legal Complaints, which oversees LeO's work, said: 'Price transparency is extremely important, and one of the five most complained-about areas we deal with.
'While it is good to know that what we publish is useful to people, we support the research view that access to a wider range of information would be beneficial.'