The Supreme Court has said it wants a 'balance of expertise' and more diversity on its benches as it looks to recruit a deputy president and two justices.
The UK's top court has had one solicitor judge in its ranks since it was established in 2009, Lord Collins.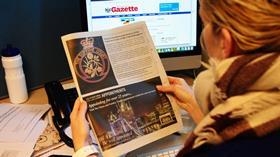 An application pack for new justices has been published today with the court clarifying it wants a 'balance of expertise, professional experience and background within the court'.
The statutory minimum qualification is to have held high judicial office for a period of at least two years, to have satisfied the judicial appointment eligibility condition on a 15-year basis or to have been a qualifying practitioner, solicitor or barrister, for at least 15 years.
A deputy president as well as two new justices are being sought.
Lord Mance, deputy president of the court, will retire in June 2018, while Lord Hughes and Lord Sumption are due to retire in August and December 2018 respectively. If one of the serving justices is appointed deputy, a third new justice will be recommended from the applications.
Applications are being sought 'from the widest range of eligible candidates', particularly those who will increase the diversity of the court, the application pack says.
Of the 12 judges currently on the bench, only two are women, Lady Hale and Lady Black. None is from a black or minority ethnic background.
When he announced his retirement last year, former president Lord Neuberger revealed plans to improve diversity at the court. Meanwhile, current president Lady Hale said the fact that the profession is split into barristers and solicitors had contributed to the UK judiciary lagging in diversity.
According to the court, recommending candidates the selection commission will ensure a selection must be on merit, and that the commission must 'ensure that between them the judges will have knowledge of, and experience of practice in, the law of each part of the UK'.
The closing date for applications is midday on Wednesday 26 January. Appointments are expected to take effect between June 2018 and January 2019.