UK courts must consistently interpret case law handed down by the Court of Justice of the European Union until the end of the 21-month Brexit transition period and 'pay due regard to CJEU case law' following that date under the controversial deal approved by the Cabinet last night.
The Draft Agreement on the withdrawal of the United Kingdom of Great Britain and Northern Ireland from the European Union and the European Atomic Energy Community published yesterday also provides for the continued recognition of professional qualifications.
According to a fact sheet issued by the European Commission, The agreement 'ensures that the withdrawal will happen in an orderly manner, and offers legal certainty once [EU] treaties and EU law will cease to apply to the UK.'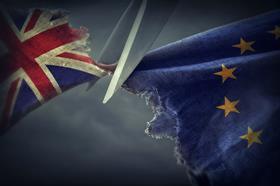 SEE ALSO
- Government has 'will' to make Euro patent court work
- Gonna change the world
- On your marks
- CJEU decision on Polish judicial crisis may echo here
It includes an explicit requiremen that both parties ensure the consistent interpretation of CJEU case law until the end of the transition period on 31 December 2020, while the UK courts will 'pay due regard to CJEU case law handed down after that date'. The agreement 'specifically requires the UK to ensure compliance with the above through primary domestic legislation, specifically empowering UK judicial and administrative authorities to disapply inconsistent or incompatible national law'
On professional qualifications, the agreement states: 'a person... who had his or her professional qualifications recognised in the country (an EU Member State or the UK) where he or she currently resides or, for frontier workers, where he or she works, will be able to continue to rely on the recognition decision there for the purpose of carrying out the professional activities linked to the use of those professional qualifications.
'If he or she has already applied for the recognition of his or her professional qualifications before the end of the transition period, his or her application will be processed domestically in accordance with the EU rules applicable when the application was made.'
The withdrawal agreement also safeguards the rights of 3 million EU citizens in the UK, and 1 million UK nationals in EU countries 'to stay and continue their current activities'.
On criminal justice, the agreement provides for rules on winding down ongoing police and judicial proceedings in criminal matters involving the UK. 'Any such proceedings should still be completed according to the same EU rules.' European arrest warrants will continue to have force throughout the transition period.
It also provides that EU law on international jurisdiction in cross-border civil disputes should continue to apply to legal proceedings instituted before the end of the transition period, and that relevant EU law on recognition and enforcement of judgments should continue to apply to judgments handed down before end of the transition period.
To come into effect, the draft agreement must be approved by the EU 27 leaders, then ratified by the UK and European parliaments.