The director of the Serious Fraud Office has suggested that the agency is no longer under threat from a pre-election pledge by the Conservative party to abolish it.
David Green told a conference today that he understood a decision on the office's future was 'imminent' - but that he was 'entirely relaxed' about the outcome. His remarks were interpreted as a sign that no radical change will be made.
Green, who departs as SFO director next April, was speaking at the Sixth London White Collar Crime Institute hosted by the American Bar Association at the London office of international firm Berwin Leighton Paisner.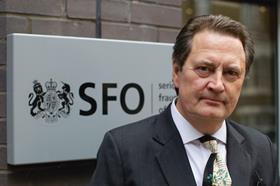 Proposals to merge the SFO and incorporate it into the newer National Crime Agency were outlined in the Conservative party manifesto before June's general election. However, after the Conservatives were returned without a working majority the plans were put on the back foot and did not make it into the Queen's speech in July.
Green told delegates this morning: 'What happens to the SFO is always a matter for ministers. Many of you will be aware there was a pre-election pledge to incorporate the SFO into the NCA. What is meant by incorporated is not known, whether it be simply working alongside or completely merged. I believe a decision is imminent, I can't say what that decision will be but I can tell you I am entirely relaxed about the situation.'
Green added that he was proud that the office had 'returned to its original purpose' of fighting the most serious cases of economic crime and had moved away from a tendency in the past to 'dumb down' the cases it took on.
The QC also sought to clarify 'stories flying around that the SFO is somehow anti-privilege' following a court judgment in which it was successful in obtaining documents that a defendant had claimed were covered by professional privilege.
As part of an investigation into alleged fraud bribery and corruption by the Eurasian Natural Resources Corporation (ENRC) the SFO successfully demanded that the mining company hand over documents it claimed were protected. After the order, lawyers predicted a 'profound effect' on corporate investigations and said that Green's 'long war' against unjustified claims of legal privilege had been justified.
Asked for his views today Green said he and the SFO had 'complete respect' for the long standing principle of legal privilege but that it would not be afraid to 'challenge' what he said were 'over the top claims'.