UK-top 40 firm Bond Dickinson has become the latest firm to combine with a US counterpart after agreeing a deal with North Carolina-based Womble Carlyle Sandridge & Rice, a move that will create a UK top-20 firm with revenue in excess of £340 million.
Effective from October 2017, the combined firm, under the name Womble Bond Dickinson, will have more than 420 partners and 1,000 lawyers across eight UK offices and 15 in the US.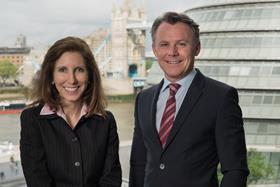 A statement said the combination will take the form of a company limited by guarantee, with Womble Bond Dickinson (UK) LLP and Womble Bond Dickinson (US) LLP will be the members with each firm continuing to operate as a separate and autonomous partnership with its own independent management.
Betty Temple, chair and chief executive of Womble Carlyle, and Jonathan Blair, Bond Dickinson's managing partner, will co-chair a board of directors.
In June last year the firms announced what they then described as a 'strategic alliance', though at the time Blair stressed that the alliance was not a precursor to a merger.
Speaking to the Gazette today Blair said: 'This is a combination rather than a merger.' He added that the two firms will remain separate domestic entities that will manage their own accounts and businesses. He stressed that there would be no redundancies.
Together, the firms will have revenue in excess of £340 million which would put it in the UK's top 20 and top 80 in the US.
Blair added: 'I can now say to clients "we have an office in the US", providing [clients] with the assurance that they need and without having to explain what is meant by "strategic alliance".
Blair said: 'This combined firm enables us to provide an enviable transatlantic platform for further expansion and growth in the UK, where London remains a priority for investment, along with Edinburgh and other regional areas important to US and UK clients. Most importantly, we believe this new platform will better serve the needs of all our clients and provide the environment to retain and nurture the best talent in the business.'
The combination is the latest in a growing trend of transatlantic tie-ups and Blair said that since Brexit there were signs that the US and UK were looking at working together more closely.
Earlier this year Eversheds' merger with US firm Sutherland Asbill & Brennan went live creating Eversheds Sutherland.
In November last year, Holman Fenwick Willan agreed to merge with US-based Legge Farrow Kimmitt McGrath & Brown and earlier this year top-10 firm Norton Rose Fulbright agreed its merger with US-based international firm Chadbourne & Parke.