Specialist commercial and corporate law firm Berkeley Rowe has appointed mergers and acquisitions lawyer Akbar Ali as partner and head of corporate.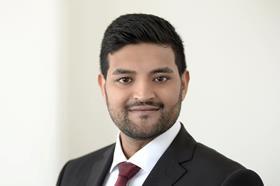 Ali's most high-profile successes include advising on the acquisition of an international clothing retailer, the acquisition of a Middle East-based hotel chain and the disposal of a leading cloud storage listed business to US private equity.
He will focus on developing the corporate practice at Berkeley Rowe by targeting areas including capital markets and international cross-border transactions.
Ali commented: 'I am excited to be joining the team at Berkeley Rowe and feel that my experience complements the firm's innovative approach to corporate transactions and ambitious plans for the future. I am looking forward to working with and growing the department into new exciting areas.'
He will also undertake general commercial work including franchise arrangements, terms and conditions, banking and finance.
CEO Tom Keya added: 'Corporate is an area that is rapidly expanding in our practice and I am excited to have Akbar Ali on board to lead it. His talent and results-led approach enabled him to have a swift rise to become head of department and leading a team specialising in M&A at his previous firm. He brings with him this wealth of experience, a high level of energy and dynamic approach that has made Berkeley Rowe stand out amongst our peers.'
Ali, who was head of corporate at his previous firm, will be based in Berkeley Rowe's Mayfair office.