Legal management consultant and former managing partner of Clifford Chance, Tony Williams, has joined the board of Kidd Aitken as a non-executive director.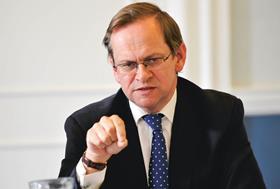 Williams was a corporate partner at Clifford Chance in London and Hong Kong and managing partner of the firm's Moscow office, before going on to be worldwide managing partner. He subsequently became global managing partner of Andersen Legal and head of its UK practice.
Williams is currently the principal and founder of Jomati Consultants LLP, a UK-based international legal management consultancy.
Kidd Aitken Legal Marketing was founded in 2015 and assists a wide range of law firms with the preparation of their submissions to Chambers, Legal 500 and other leading legal directories.
Kidd Aitken director Daniel Kidd commented: 'All of us at Kidd Aitken are looking forward to working closely with Tony. His experience will be invaluable as we continue to grow, expand our service offering and consolidate our position as a market leader for the outsourcing of legal directory submissions.'
Kidd Aitken director Jacob Aitken added: 'We have grown rapidly in the past four years and currently assist over 120 law firms with their legal directory submissions. We have built an unrivalled team, the vast majority of whom have experience working at Chambers, Legal 500 or other key legal directories. We are confident that bringing Tony onboard at this critical stage will ensure that Kidd Aitken goes from strength to strength over the coming years.'
Williams commented: 'I am very excited to be working with the team at Kidd Aitken. The company's growth is remarkable and I look forward to working closely with its Directors to continue building on an already impressive platform.'