A well-known Blackpool lawyer has joined Vincents Solicitors' Lytham office. Lester Samuels, from Lytham, has been a recognisable face on the Fylde Coast legal scene for almost 50 years.
Specialising in commercial property, leases and corporate work, Lester's clients include numerous businesses and individuals from across the Fylde Coast and Lancashire.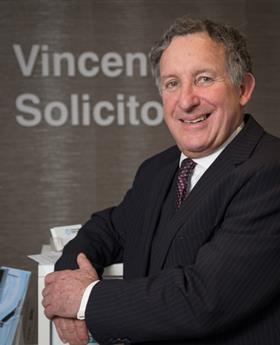 He joins Vincents from Ascroft Whiteside in Blackpool where he was a consultant solicitor, and which recently went into administration. Lester immediately sought a firm to support his ongoing client work, and approached Vincents.
Phillip Gilmore, Vincents managing director, said: 'Lester's reputation precedes him and, as a pre-eminent commercial law solicitor serving companies across Lancashire for more than four decades, we are very pleased to welcome him into the business. We are happy to provide Lester and his clients with support from the team in our Lytham office and our highly-experienced commercial department in Preston.'
Having qualified in 1970, Lester set up his first practice in Topping Street in 1973 as a sole practitioner. Over the next 30 years he grew the business and merged with two other firms to create Lawsons Samuels Capaldi in Devonshire Square with 36 members of staff. He retired in 2005 but almost immediately went back to work, becoming a consultant solicitor with Ascroft Whiteside for the last 12 years. He also sat as a North West Tribunal Judge for 16 years.
Lester anticipates his move to Vincents' Lytham office will be his last before retirement. He said: 'Although it has been suggested, I'm not quite ready for retirement just yet; I tried to do it once before but it didn't suit me. It was an awful shock when my previous employer folded, but I wasn't prepared to leave my clients in the lurch.
'I looked for a firm which would be the right place for me now and for my clients in the future and approached Vincents, where I knew several solicitors from working together over the years. It's the ideal solution as I can provide continuity for my clients and offer them all the benefits of being part of a large, successful business.'