North-east commercial law firm Clarke Mairs LLP has appointed James Godden as property litigation partner.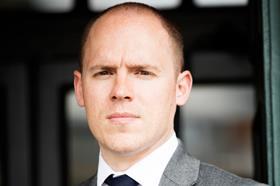 Godden joins the Newcastle-based firm with extensive experience of dealing with regional and national property litigation disputes.

He regularly advises landlords, tenants, developers and investors on a range of property related litigation and has in-depth knowledge in relation to breach of contract, debt enforcement and professional negligence on both transactional and litigious property matters. Godden is also an enfranchisement specialist.

Godden studied law at Newcastle University and then qualified as a solicitor in 2011. He specialised in property litigation with Gordon Brown Law Firm, becoming a partner in 2018, before accepting an offer to join Clarke Mairs.

He said: 'I had been aware of Clarke Mairs for many years and was really attracted to their forward-thinking approach to working with clients and staff. The fact that they are located centrally is also a big advantage. I'm excited to be widening the litigation offering for the firm.'
Partner of Clarke Mairs, Tim Clarke, said: 'We're delighted to have James on board at last - he has extensive experience in property litigation and unrivalled expertise in dealing with this complex area of the law and we're looking forward to seeing the litigation team grow'.