Addleshaw Goddard has announced the promotion of Kerry Westland, to head of innovation & legal technology, a newly created role which demonstrates the firm's continued commitment to its legal service delivery approach – Intelligent Delivery.
Axel Koelsch, Addleshaw Goddard's chief operating officer, said: 'Intelligent Delivery is the way we do business at AG. We combine technology, flexible resourcing, process improvement and strategic consultancy for our clients, as well as providing the platform for new thinking and smart solutions beyond pure legal advice. It is a powerful way of working involving more than 300 people across different elements of our delivery approach with more planned in the future - so a clear indication of how seriously we are taking it.'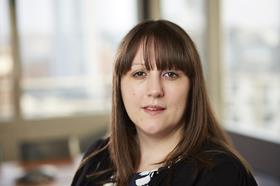 Previously, part of the firm's Transaction Services Team (TST), Kerry was responsible for the development and delivery of creative and bespoke technology tools for clients, including the firm's introduction of artificial intelligence. Recognised in the FT Innovative Lawyers Report, as one of Europe's leading Young Innovators, Kerry also played a lead role in developing a strategic piece of technology which allowed the firm to coordinate the transfer of over 15,000 properties relating to the sale of National Grid's GasD business.
In her new role, Kerry will continue to drive smarter, faster and creative solutions across the firm's international network and oversee the integration of technology solutions to enable AG to continue to transform the way it delivers legal services.
Axel Koelsch, AG's chief operating officer stated: 'Kerry's appointment is a clear indicator of our commitment to embed innovation into everything we do. As a firm we understand that innovation is not simply focused on technology, but is about leveraging the fusion of smart people, flexible resourcing, advanced processes and strategic consultancy we have on offer and blending these to help clients achieve better business outcomes.'
Kerry's role will see her manage a dedicated team of legal technologists, whose role will focus on applying new and existing technologies such as HighQ and AI to the delivery of both routine and complex legal work across our business.
Kerry stated: 'Technology is a game changer in the legal world and I am delighted to be stepping into this newly created role. Creating a culture of innovation is a strategic priority for AG and looking at the possibilities legal technology and forward thinking bring, through efficiencies and client collaboration, is incredibly exciting.'