Employment law and business immigration specialist Donna Martin has been promoted to the position of partner at one of London's top mid-tier law firm Mackrell Turner Garrett.
Having joined the firm in 2011, Donna has gone on to make her mark at the firm, assisting clients with a wide-range of employment law issues and advising on routes into the UK via the points based system.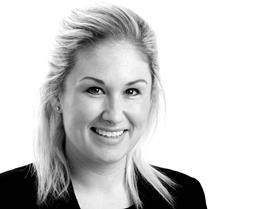 Her innovative approach to this area of law has also seen her comments on the issues surrounding the 'gig economy' and changes to immigration law featured in a range of publications including The Guardian and The Independent.
Donna is an active member of the Mackrell International European Young Lawyers Group and as a result of the firm's membership of this network; she has significant experience dealing with cross-border cases.
Speaking about her appointment as partner, Donna said: 'I am very honoured to be offered the position of partner at such a prestigious firm and it is with a real sense of pride that I take up this position.'
'Mackrell Turner Garrett is recognised as an extremely innovative firm and I hope that my input as a partner will continue this tradition well into the future.'
Alongside her own work Donna regularly assists the firm's corporate department with business sales and purchases and advises on the implications such transaction will have for TUPE purposes. Donna has particular expertise advising employer's on their sponsor licence obligations when employing migrant workers.
Nigel Rowley, managing partner at Mackrell Turner Garrett, said: 'We are delighted to be welcoming Donna into the partnership within our firm.'
'Attaining the position of partner is most solicitors' main aspiration when they start out, but it takes a lot of hard work and dedication to reach this position, something that Donna has definitely demonstrated during her time at the firm.'