Wills and probate solicitor, Reading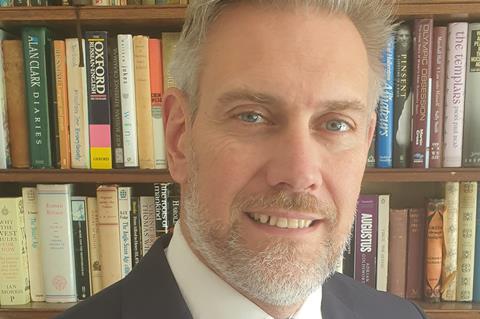 My father was a solicitor, so when he died on my sixth birthday I was inspired to follow in his footsteps. As I seemed to share many of his traits and skills as a classicist and historian, entering the legal profession made good sense. However, my struggles with Cicero's speeches made me think that I was not best suited to follow my father into court working for the Crown Prosecution Service.
I was offered a position on a master's course in ancient history at University College London. But the allure of the modern world was stronger, so I moved to the College of Law to do a conversion and Legal Practice Course. I chose to do a training contract with a smaller firm, Cartwrights (now Bond Pearce), with the greater possibility of client interaction. But this meant I had to hold down several jobs at the same time to make ends meet – stewarding at football matches was good preparation for difficult client meetings!
Having studied wills and probate as a module at the College of Law, it was frustrating that the private client partner at Cartwrights left before I could do my seat with him. Fortunately, I was able to complete my private client training with Mercers in Henley-on-Thames, while I was rowing at Leander.
After leaving Mercers to row across the Atlantic, I returned to work and ran a department at Kidd Rapinet in both High Wycombe and London. I then joined Vardags as a director, where I stayed for five years. However, the allure of running my own show led me to go freelance.
Now my time is my own and I can choose when to rest on my oars or not. Working freelance enables me to build relationships with clients and other professionals without the same pressure of someone else's targets and office administration. It also means I can manage my time without having to spend hours travelling to and from an office. If necessary, I can hop on my motorbike to see a client for an urgent will signing, or to secure a client's property for probate.
Once, acting for an executor, I had to sell a supercar to a car salesman recommended by a contact, to ensure the hefty loan the deceased had taken out before death was paid off
My work encompasses all aspects of wills, trusts, probate and powers of attorney. As a freelancer working for 360 Law Group, I can offer my services on either a regulated or unregulated basis – 360 Law Group was one of the first firms to offer both.
The work is very hands-on so I do all aspects myself, as a sole practitioner would. But as part of 360 Law Group, I have access to the latest legal software and full admin support. Not least, I have easy access to over 200 expert lawyers in the UK and around the world who are also part of the group. I can be doing simple wills and probate administration or dealing with a difficult tax issue on the same day. There is also time to explore more detailed trust work, such as a variation of a company employee benefit trust and discretionary trust.
Most recently, I was instructed as an executor on a large estate the week before lockdown. The deceased's property needed urgent repair to secure and make ready for sale. I managed to organise the repair of the property and instruct an estate agent and valuer within a week. Contracts were exchanged within two months. Now I must ensure we obtain the grant of probate before completion.
Common frustrations include waiting for replies from government agencies and some banks. The biggest joy is providing solutions to clients in a creative way.
Working at 360 Law Group, there is no need, and indeed no time, to over-complicate matters – we simply charge for the time it takes to do the work. In contrast, if a client is dealing with a law firm running on the traditional model, there is often a lack of clarity which can delay the practical solution a client seeks.
Once, acting for an executor, I had to sell a supercar to a car salesman recommended by a contact, to ensure the hefty loan the deceased had taken out before death was paid off. Unfortunately, I broke my wrist shortly before the sale so I could not drive the car to the showroom! Solving problems and disputes so clients can move on with their lives is very satisfying.