Commercial disputes associate, Freshfields Bruckhaus Deringer, London.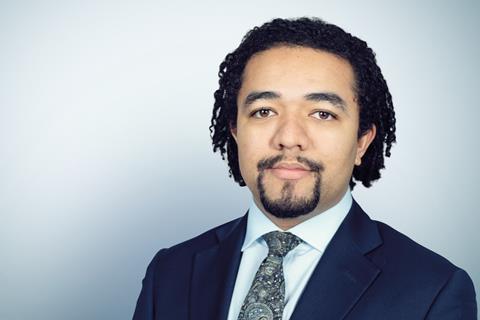 I became inspired and motivated to become a lawyer when confronted with a personal legal issue at a former employer. This led to me bringing a discrimination claim in the employment tribunal as a litigant in person. As challenging as this was, I appreciated the value of understanding one's legal rights. This motivated me to enrol on an undergraduate law degree at BPP University.
Learning about Freshfields' Stephen Lawrence Scholarship Scheme was a game-changer. The scheme, established in 2013, aims to address the underrepresentation in commercial law firms and other City careers of black men from less socially mobile backgrounds by providing access to opportunities. Visiting the firm's offices for an open day was a unique and positive experience. Just being in a room full of other black male law students brought about a strong sense of unity and excitement. The assessment and interview process to gain admission was rigorous but prepared me well for subsequent vacation scheme and training contract assessment centres.
My experience as a scholar was priceless. The development programme (the scheme's core component) was of incredible value, allowing me to develop key professional skills such as legal writing and drafting, critical thinking and relationship-building.
It has been fulfilling to remain involved in the scheme. I have mentored scholars in recent cohorts since I joined the firm as a trainee in 2019. I have also continued to contribute to development sessions, which are facilitated for current scholars, and engage with clients to further ongoing collaborations. We have a strong sense of community among the alumni of the scholarship as we regularly keep in contact with current and former scholars and candidates (some of whom are now trainees and associates at Freshfields and other firms/companies in the City and at the bar).
Mentorship is a key element of the scheme and an important aspect of developing as a lawyer. I have been fortunate enough to encounter high-quality mentors both through and outside the scheme (including senior lawyers within my team), each of whom is generous with their time and continues to impart valuable insights based on their experiences.
'Personalised sponsorship of aspiring lawyers from underrepresented backgrounds could play a key role in creating a more diverse and inclusive profession'
In addition to my full-time work, I have undertaken voluntary board positions within the diversity and non-profit sectors, and have worked with organisations to advocate for a more diverse and equal legal profession.
While the profession has made progress in terms of diversity in recent years, there remains a lot more to be done – particularly around inclusion and retention. Firms and individuals in the profession all have a part to play in ensuring it is more accessible and sustainable for those from underrepresented groups who wish to enter and work within it.
A key component of ensuring greater inclusion and equality of access, progression and retention boils down to sponsorship. Personalised and meaningful sponsorship of aspiring and junior to mid-level lawyers from underrepresented backgrounds could play a key role in creating a more diverse and inclusive profession in the long-term.
There is something to be said for focusing on specific subsets of underrepresented groups so that barriers can be specifically addressed at their root. The Stephen Lawrence scheme does this well as its focus on black men from lower socio-economic backgrounds appears to be effective in tackling their disproportionate underrepresentation. It would be great to see more organisations take similarly bespoke approaches.
I continue to enjoy my time at Freshfields and often get involved in helping to further develop our D&I efforts and initiatives. However, I've especially enjoyed the breadth of matters I've worked on. Highlights include acting for Manchester City Football Club on its successful appeal of UEFA's two-year Champions League ban; acting pro bono for an individual claimant on a discrimination claim brought in the employment tribunal; and more recently, advising a FTSE 100 gaming company on the settlement of a circa $1bn judgment debt.