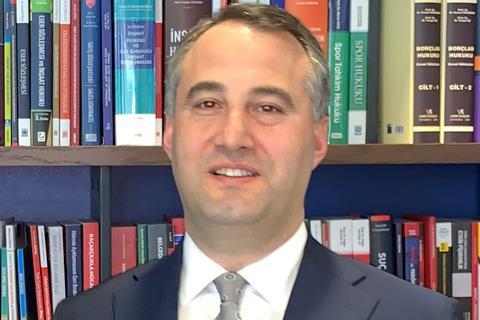 Justice and the rule of law have always been important for me. From an early age, I wanted to play a role in that world. This was my primary motivation for starting a career as a lawyer.
I went to Istanbul University's School of Law, graduating in 1994. Then I completed another LLM degree in European Union law in 1999. I then came to the UK, graduating in 2001 with an LLM from the University of Leicester in European and international trade law. I loved my time studying in the UK and made many friends. It was a real privilege to study here.
Cüneyt Yüksel and I were working at a large law firm in Turkey but were very keen to open our own practice. In 2006, we decided to start on our own – but from scratch. In fact, we sold our cars to use as capital to fund the business. As soon as we decided to venture out on our own, we were inundated with mandates – and it was not long before the business started growing. We moved to one floor of a tower block in Istanbul. The practice expanded so quickly that within four or five years, we covered seven floors.
The main challenges, particularly at the beginning, were attracting major clients and building a strong team. We were very selective, did not take shortcuts and were defined by the quality of our work. We built Yüksel Karkin Attorney Partnership into Turkey's leading independent law firm, serving Turkish and international clients. We also formed strong partnerships. From 2010 to 2014, the firm acted as the Turkish arm of a leading international law firm. Cüneyt and I were also the regional managing partners and on the senior management committee of that firm during this period. The current political and legal situation prompted us to relocate and establish ourselves in London in 2017. We had many happy and successful years practising law in Turkey, but felt the time was right to move. London also offers a lot as the centre of Europe's legal market and we have many friends and former colleagues here. Following rapid growth under our new name, Karkın & Yüksel, we moved to the Gherkin in January 2019. The majority of Karkın & Yüksel's clients are London-based and many of the international law firms, funds and multinational companies we work with are headquartered here.
Turkey is going through very challenging times but we believe that justice, democracy and the rule of law will prevail. We are extremely hopeful for the future of our country and look forward to legal reform
The UK is also consistent with our values of democracy, human rights and transparency, as well as support for the rule of law. With our international outlook, global network, diverse offering and extensive expertise, we are confident of our firm's ability to lead the European market for Turkish legal services from London.
Establishing and growing the largest law firm in Turkey is most definitely up there as one of my career highlights. It was not only the largest in terms of headcount and lawyers, but also regarded as Tier 1 by the top international directories and initiatives across almost all fields. This included being ranked Tier 1 as individuals: myself for dispute resolution and Cüneyt for corporate and M&A. This made us a unique proposition among our competition in Turkey.
I am also confident that there are career highlights ahead of me. We are excited for what the future holds for our firm in London, from rediscovering law in a new country to having the enthusiasm and motivation for building a high-quality practice once again.
I have a great deal of respect for the law and the importance that it holds in maintaining a thriving society. As the managing partner of a full-service law firm, I oversee and closely follow each practice area. However, my favourite area of law is naturally my own practice area: international arbitration, commercial litigation and white-collar crime/compliance.
Turkey is going through challenging times but we believe that justice, democracy and the rule of law will prevail. We are extremely hopeful for the future of our country and look forward to legal reform which should boost the country's economy and standing.
Murat Karkin is co-managing partner of Karkin & Yüksel, London