An International Bar Association survey has laid bare the scale of harassment and bullying in the law. Senior legal sector figures hope the report will be a wake-up call
A global survey of life in the legal profession was splashed across the media last week. It does not make pleasant reading. Us Too?, by the International Bar Association, investigates the prevalence of sexual harassment and bullying.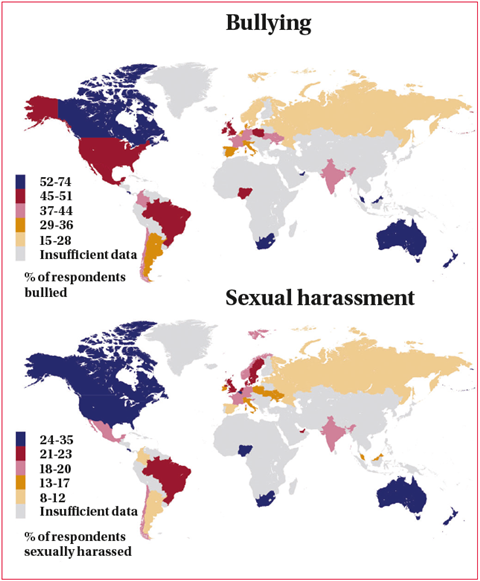 The study, based on the answers of 7,000 legal professionals from 135 countries, found that a third of women lawyers have been sexually harassed at work, while half of women and a third of men have endured bullying.
UK respondents reported higher rates of sexual harassment and bullying than many other major European countries, including France, Germany, Spain and Italy.
'It would be nice if we could take comfort in the fact that these are incidents of the past, but they are not,' said the survey's creator, Kieran Pender. Some 38% of respondents said they had been bullied in the past year, while 26% said they had been sexually harassed.
Government legal workplaces are reported to have the highest levels of bullying, with almost 70% of respondents recording aggressive or uncivil behaviour. Perhaps surprisingly, private practice had the lowest rate of reported bullying, 39%, while private sector in-house workplaces and barristers' chambers reported around 47%.
The survey also found that younger legal professionals are disproportionately affected by bullying behaviour, and that line managers and supervisors are the most frequent offenders.
Simon Davis, vice-president of the Law Society, said the report is an important wake-up call to senior lawyers. 'Some people who read this report won't even realise they are bullies or sexual harassers. That is what is so important: self-realisation.'
While the perpetrators of bullying and sexual harassment have gone largely unpunished – three-quarters of sexual harassment cases and almost 60% of bullying cases were never reported – the effect on victims has been profound.
More than half of bullied respondents have left, or are considering leaving, their workplace, and one in seven bullied respondents have left, or are thinking of leaving, the legal profession entirely.
Horacio Bernardes Neto, IBA president, said: 'It is deeply shameful that our profession, predicated on the highest ethical standards, is rife with such negative workplace behaviours.'
Christina Blacklaws, president of the Law Society, commented: 'Businesses, including law firms, should examine their workplace culture and procedures for dealing with complaints. Just as anyone is protected by the law, they should also be protected by employers.' Blacklaws announced the launch next month of the Women in Law Pledge. This will commit signatories to tackle sex discrimination, bullying and sexual harassment wherever it occurs in the workplace.
Speaking at the launch of the report, Baroness Kennedy of the Shaws (Helena Kennedy QC), director of the IBA's Human Rights Institute, said: 'It is about calling out and I want men to be calling it out. Too often it is falling to us women. We need to get this right.'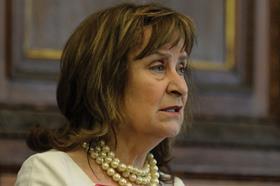 How to get it right is not self-evident, however. While the IBA's report proposes 10 measures, including training, and the revision of policies and standards, the findings also suggest that such measures are not having the desired impact. Respondents at workplaces with policies and training in place are just as likely to be bullied or sexually harassed as those at workplaces that do not.
What, then, needs to change? A new tough line from regulators may force firms to sit up. The Solicitors Disciplinary Tribunal has scheduled an additional 81 hearing days this year to deal with an expected 25 prosecutions related to sexual misconduct allegations. Meanwhile, the Bar Standards Board (BSB) has launched a series of pilot schemes to find the most effective ways of handling complaints of sexual harassment and bullying. This has included a hotline service on which complainants can report people anonymously. The hotline avoids the immediate involvement of the regulator, and could encourage lawyers to speak out against unfair treatment.
With more lawyers than ever before being called out for their behaviour, perhaps the IBA report is the jolt the profession needs.


Reporter