Victims of jailed rogue surgeon Ian Paterson will have just over a year to claim compensation from a fund announced today.
Private hospital operator Spire Healthcare said it has reached agreement in principle to settle current and known claims relating to the actions of the disgraced former consultant.
The Ian Paterson Compensation Fund will be managed by lead solicitors for the claimants and provide damages to around 750 patients currently bringing claims, as well as provide a mechanism to deal with any new claims brought before 30 October, 2018.
It is thought to be one of the biggest settlements ever made in the UK by a private healthcare provider. Spire and its co-defendants (or, in the case of Paterson, his insurers) will contribute a total of £37m.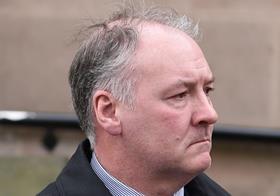 The agreement is conditional upon the parties agreeing, and the court approving, the terms of a formal court order which is expected to be considered by the High Court next month.
Paterson (pictured) was found guilty of 17 counts of wounding with intent in April after a trial at Nottingham Crown Court. His 15-year jail sentence was increased in August to 20 years after the Court of Appeal found it to be too lenient.
In a statement, Spire said Paterson's actions were 'unprecedented' in scale and impact, and the company is 'determined' to learn the lessons from these events to ensure they can never happen again.
Simon Gordon, interim chief executive, said: 'Whilst nothing diminishes Mr Paterson's responsibility for his actions, these events took place in our hospitals, and this should not have happened. We accept that better clinical governance in the private hospitals where Mr Paterson practised, as well as in his NHS trust, might have led to action being taken sooner, and it is right that we have made a material contribution to the settlement announced today.
'We have apologised unreservedly to Mr Paterson's patients for their suffering and distress and we would like to repeat that apology. As soon as the criminal trial ended we were able to start liaising with claimants' lawyers to broker a settlement involving all defendants.'
National firm Irwin Mitchell, which represented more than 30 patients affected by treatment through the NHS or Spire, said questions remain about the redress available for private patients who are victims of negligence.
In a statement, the firm said: 'While Spire in this case has set aside a significant sum, it is likely to be less than the amount that the patients affected need. There are also medical negligence victims who have found that indemnity insurance does not cover their private doctor when things have gone wrong. This is still a grey area and many people wrongly believe they will be better protected under private care than under the NHS.'