A former partner with City firm Jones Day has been found in contempt over a 'burn it' instruction made following a court search order.
Raymond McKeeve was today found to have intentionally caused the destruction of documentary material, in the form of an encrypted 3CX messaging system, that were part of the court order made following an application by retailer Ocado. Mr Justice Adam Johnson rejected the idea that McKeeve was part of any conspiracy, but said that his conduct had been a 'spontaneous act of colossal stupidity'.
The 50-year-old had admitted in court that he 'panicked' after speaking to his client and sent the instruction to an IT manager. He denied contempt, saying he had no experience of search orders and did not intend for any documents to be destroyed.
But Ocado said McKeeve had intentionally interfered with the administration of justice and thwarted the purpose of the search order.
In a ruling handed down today, the judge said McKeeve's expression of regret was 'entirely genuine' and that the present action had taken a heavy toll on the solicitor both personally and professionally.
McKeeve displayed an 'almost visceral reaction' to the idea that he was in contempt, but this mindset had 'coloured parts of his evidence' and at times he was 'unduly defensive and unwilling to accept the obvious'.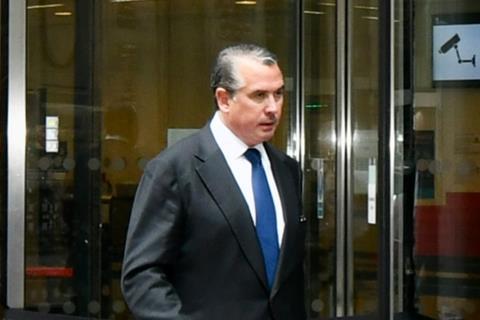 'Although I did not regard Mr McKeeve as a deliberately dishonest witness, I do not feel able to accept all the evidence he gave,' added the judge. 'His genuine sense of shame and embarrassment, perhaps taken together with the passage of time and the fact (which I accept) that the key events unfolded at high speed, have led to his recollection being distorted.'
The 50-year-old, now a senior partner at corporate finance firm Dial Partners, had been advising a company called Project Today, set up by Ocado co-founder Jonathan Faiman. Ocado became concerned that confidential information was being handed over by an employee and obtained the order. McKeeve and others in Project Today had been communicating through the 3CX app for several months at the time.
McKeeve had told the court he was concerned because the name of his wife, the former Brexit Party MEP Belinda de Lucy, had been used as a pseudonym by one of the members of the app group.
The judge rejected the suggestion that McKeeve was party to any pre-arranged plan to delete the app when Ocado 'came knocking', as this would represent a huge risk for such an experienced and senior solicitor.
But it was found that he knew the purpose of the search order and he intended to secure the deletion of material which would have been included in it.
The judge added: 'I accept that his motives included, as an important factor, a desire to protect his wife, but his manner of implementing that motive was intentionally to take steps to put the 3CX app out of reach to those conducting the search.'
All consequential matters including costs and sanction were adjourned to a hearing on 4 October.
Following the ruling, a spokesperson for Ocado said: 'We felt compelled to bring this solicitor's conduct to the attention of the court as it was the right thing to do. Ocado has been vindicated in its decision to do so. We welcome the judgment but take no joy in it. It is regrettable that a solicitor failed in his duty to uphold the administration of justice and was found to be in criminal contempt of court.'