The trial of a teacher accused of murdering her boyfriend has collapsed because the defence QC had to isolate after a relative tested positive for Covid.
The news emerged as the Criminal Bar Association (CBA) is pushing for 'double jabbed' barristers who test negative for the virus to be included in the list of critical workers who are exempt from having to isolate if 'pinged' by the government app or come into close contact with someone testing positive.
Charlotte Kerr, 35, from Croydon, who is accused of stabbing her boyfriend to death, denies murder saying she acted in self-defence.
Four days into a three-week trial the jury at Croydon Crown Court had to be discharged last week, wasting thousands of pounds of taxpayers' money, despite pleas from the prosecution and defence for the case to continue.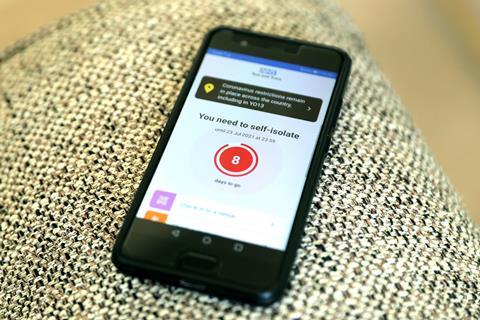 The lead defence barrister, Icah Peart QC, was forced to isolate by government guidelines because an asymptomatic member of his household tested positive for Covid-19.
Under government guidelines that expire on 16 August, Peart must stay at home, even though he has had both doses of the vaccination and tested negative.
Ministry of Justice officials advised Judge Peter Gower QC that the court service is not on the list of government departments that can be exempted from the rules requiring individuals to self-isolate.
The judge was told that it would not be practicable for barristers attending court to be excluded from the rules because it is not possible for courts to carry out daily onsite PCR testing.
Due to the risk that attempting to continue without the lead barrister could lead to the defendant receiving an unfair trial, the judge reluctantly halted the matter.
The case, which had been fast-tracked, will now be delayed for 10 months until next May.
Jo Sidhu QC, vice chair of the Criminal Bar Association, said that more trials will be jeopardised without a 'sensible approach to stem any over-zealous approach of keeping the healthy double-vaccinated in isolation'.
HM Courts & Tribunals Service said: 'Our priority is to protect all court users and keep the justice system running safely.'
This article is now closed for comment.