Slaughter and May's London office will tomorrow be targeted by environmental campaigners in protest at the magic circle firm's advice to fossil fuel companies.
The group Lawyers for Extinction Rebellion said it will stage a 'crime scene' as part of a peaceful protest outside the firm's Moorgate office, and 'discuss with employees and passers by this legal firm's significant and enduring role in the climate crisis'.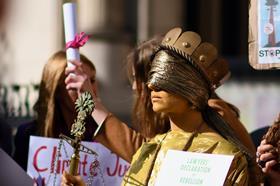 Posting on social media, the group accused Slaughter and May of 'slaughtering our planet' after advising Premier Oil on its North Sea expansion. It wrote: 'Slaughter and May recently helped Premier Oil clear the first hurdle in its plans to expand drilling in the North Sea, and thereby cause yet more destruction to our planet!'
The protest will take place between 8am and 10am.
Last October, Lawyers for Extinction Rebellion gathered outside the Royal Courts of Justice and handed out 'declarations of rebellion', with one campaigner was dressed in gold as 'Lady Justice'. In July the campaigners parked a blue boat outside the main entrance of the Royal Courts of Justice, emblazoned with the words 'act now'.
More City firms are due to be targeted later this year.
The UN Basic Principles on the Role of Lawyers state that lawyers should be able to perform all of their professional functions without intimidation, hindrance, harassment or improper interference and that lawyers are not identified with their clients as a result of discharging their functions.