Law firms and their staff have stepped up during the coronavirus pandemic to support their communities, with reports coming in of extraordinary efforts to offer help.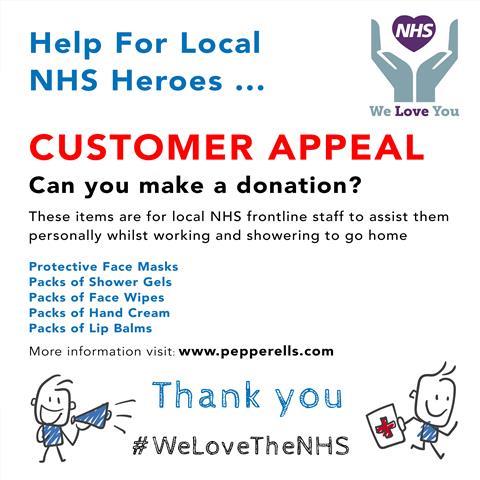 In the immediate aftermath of lockdown being announced, north east firm Pepperells launched its Help For Local NHS Heroes campaign, hoping to collect equipment that might be useful for frontline staff.
Six weeks in, and the firm has established 16 collection points across Hull, Scunthorpe, Grimsby and Lincoln and has now received 10,000 items which have been sent to hospital wards or community health workers. Volunteers have coordinated a network of NHS contacts in the community, boxing up what they need and ask for, then arranging delivery or collection of the items directly into the hands of the key works who need them. Donations have ranged from hand creams and sanitiser to surgical gloves and face shields. All the while, the firm has remained fully operational with staff working from home.
Pepperells' Julia Rymer told the Gazette: 'This has been a heartwarming campaign and we have met so many amazing health workers it makes it all worthwhile.'
Meanwhile, national firm Simpson Millar has raised more than £50,000 to pay for tablet computers for patients hospitalised by the virus, spurred on by a personal link to one frontline worker.
Nick Harris, a lawyer in the firm's Manchester office, launched the #staytogether campaign with his wife Leona, a staff nurse on a Covid-19 isolation ward at Fairfield General Hospital in Bury. She had witnessed first-hand the devastation caused when patients were admitted and their relatives were not allowed to see them, so started fundraising to buy them the tablets.
Around half the money has been donated through Simpson Millar, with the rest through a dedicated JustGiving page.
Nick Harris said: 'I'm so proud of what Leona and her nursing colleagues are achieving. It is incredible and they really are heroes. I am also proud of the immense efforts my colleagues, who are fantastic people, are putting in to rally and support the #staytogether cause.'
Those supporting the cause have included Mark Fearnley, head of the contact centre at Simpson Millar, who completed the equivalent of two marathons in one week.