Lateral flow testing will be piloted at Manchester Civil Justice Centre next week as part of wider efforts to improve court safety during the pandemic, HM Courts & Tribunals Service has revealed.
Prisoners moving between HMP Bristol and the courts will also be tested for Covid-19 and this will shortly extend to London, HMCTS said in a webinar on court safety.
An independent contractor will conduct cleaning audits at 80 sites during February and March.
When there are Covid cases connected to court, HMCTS said it does its best to find out if there have been any close contacts. If there are two or more cases at one location, or HMCTS is particularly worried about a symptomatic individual, a 'warn and inform' notice is issued to court users. However, the agency plans to introduce a 'reverse contact' method of tracing whereby people can inform the court that they are potentially a close contact.
On vaccinations, HMCTS said it has been working with the Department of Health and Social Care 'to understand what we would need to do to put a case forward to prioritise not just staff but legal professionals and everyone involved in the justice system to keep the courts going'.
As well as piloting lateral flow testing at Manchester Civil Justice Centre, HMCTS said it was looking at court users being able to access local authority test centres and working with the Department of Health on what could be done with regards to home testing.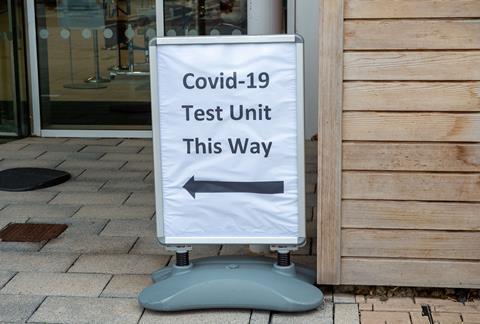 Face coverings must be worn in public and communal areas. However, HMCTS said it had just made the decision to make face coverings in back offices mandatory, apart from when someone is sat at their workstation.
The agency added that it is also looking at whether fluid resistant surgical masks should be worn in jury deliberation rooms.
Dozens of questions were asked during the session by legal professionals in attendance.
HMCTS sought to explain its efforts so far to keep the courts safe. It said temperature testing was not an effective control for admittance to a building and could discourage better compliance behaviour.
On notifying court users about Covid cases, HMCTS said its 'warn and inform' notices were vague because a Covid positive test was medical protected information. 'We cannot send a notice telling you the usher in court 5 has tested positive,' HMCTS's lead for the Covid response and recovery team said.
Where there are two or more cases, a crisis management team decides what to do next. If there are five or more cases, HMCTS informs Public Health England, which sets up an outbreak control team. HMCTS said nearly all outbreaks had been among groups of people known to each other and have social interactions. 'Incidents in court, lots of transmission in court, is very rare,' HMCTS said.
Attendees were also told that HMCTS has three types of cleaning: 'business as usual' cleaning as part of the facility management contract; touchpoint cleaning, where touchpoints are identified and regularly cleaning throughout the day; and a 'section 16' clean, where an area is isolated and cleaned intensely when someone is confirmed or suspected to have Covid.