New role for Ramsey
Sir Vivian Ramsey, the judge leading the implementation of the Jackson reforms, has begun a three-year term as honorary president of the Association of Costs Lawyers.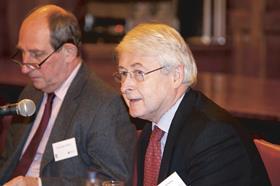 Ramsey (pictured), who succeeds Michael Bacon, will work with ACL chair Murray Heining and support the activities of the association in the post-Jackson era.
Ramsey said: 'These are challenging times for ACL members as they deal with the impact of the Jackson reforms.'
Registry fraud success
The Land Registry's property fraud line has received 505 calls and emails in its first six months. The Registry also claimed to have stopped 136 fraudulent applications on properties, worth an estimated £60m, between September 2009 and April 2013.
BPP awarded university status
BPP has been awarded university status following confirmation from the Department for Business, Innovation and Skills that it meets the criteria for full university title. BPP University is the UK's first independent private university dedicated to business and professions.
Referral fees change allowed
The Legal Services Board has granted an application by the Council for Licensed Conveyancers to change its rules on referral fees, providing more transparency for clients.
Lawcare extends support
LawCare, the lawyer's support charity, has updated its website with new features including a search facility, and a section on helping colleagues, friends and family members who may be experiencing problems.
Online legal directory

A new online legal directory to help members of the public search for a lawyer has been set up by former in-house solicitor Warren Smith. AccessSolicitor.com is a database of nearly 13,000 legal professionals, and will initially be free for lawyers to join.
Career 'halt' for mothers
One in four mothers who have returned to work believe they have been subject to discrimination, but only 29% made a formal complaint, research commissioned by Slater & Gordon has found. Half of the 2,000 mothers surveyed felt having children halted their career progression.