The criminal defence solicitor representing convicted killer Jack Shepherd has thanked the profession for rallying behind him after he received a letter threatening his family and law firm.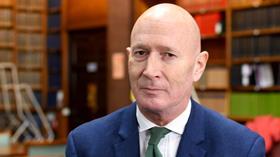 Richard Egan, senior partner of national firm Tuckers' London office, told the Gazette he 'went from being an individual solicitor dealing with these issues in isolation, to having enormous support from everyone in the profession and I will be forever grateful for that'.
Several members of the profession tweeted their support with the hashtag '#WeareRichardEgan'. The Law Society, criminal practitioner groups and Bar Council issued press releases saying they stood by him. The lord chancellor described the threats as 'completely unacceptable'.
Egan said: 'It brought the profession together and showed how united we can be when the integrity of our role is questioned. Sometimes it's not that easy to get everyone to agree. But on this fundamental principle it seemed we were all of one voice and that unity was something positive that has come from such a negative event. We need to enhance that voice to try and ensure the public at large appreciate the importance of our role in achieving a fair justice system.'