Lawyers are at risk of physical attack if politicians continue to 'sling insults' at them, the Law Society has warned, in response to the home secretary's comments about 'do-gooders' and 'lefty lawyers'.
President of the Law Society Simon Davis said: 'The fact that a lawyer represents an asylum seeker does not make them a "lefty lawyer". It simply makes them a lawyer.
'Slinging insults at lawyers undermines the rule of law in an area where views are already hotly held on all sides and risks leading not just to verbal abuse but to lawyers being physically attacked for doing their job.'
Speaking at the Conservative party conference, Priti Patel lashed out at 'the traffickers, the do-gooders, the lefty lawyers, the Labour Party' who are 'defending the broken [asylum] system'.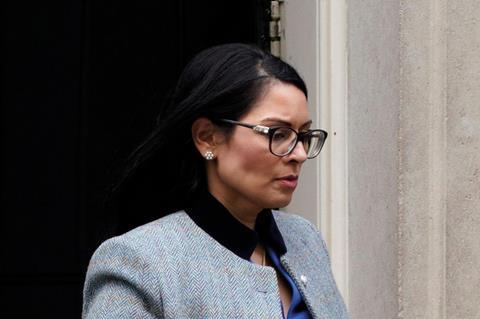 In her virtual address, Patel promised the 'biggest overhaul of our asylum system in decades' and said she would bring in legislation next year to stop 'endless legal claims' from people who are refused asylum.
The Law Society said Patel's speech 'undermines a legal system which has evolved over many centuries, which helps ensure that power is not abused and that - where there are legal questions to be decided - citizens have access to legal advice and recourse through the courts, and will receive a fair hearing, no matter how their case is perceived publicly or by government'.
According to Chancery Lane, 53% of asylum applications are granted on initial application, rising to 73% when appeals are taken into account.
'The Law Society has long called for improvements to the UK asylum and immigration system, which is beset with delays and poor decision-making. Attacks on members of the legal profession for doing their jobs do our country no credit. Government ministers must be unequivocal in their support for the rule of law,' Davis said.
Amanda Pinto QC, chair of the Bar Council, added: 'Attempting to paint lawyers with the "lefty" brush seeks to demonise the very people helping constituents every day, without agenda, simply because they provide a vital public service. Lawyers carry out their duty and apply the law, irrespective of political persuasion, in accordance with our professional standards.
'Given our duty to the court and our commitment to justice more generally, barristers, as well as solicitors, must do just that. It is not the job of lawyers to limit parliament's own laws in a way that the government of the day finds most favourable to its political agenda. The law, not politics, is what matters to a profession that upholds the rule of law.'