Solicitor Sonya Bedford, partner and head of energy at south west firm Stephens Scown, is one of a handful of lawyers to feature on the Queen's Birthday Honours List. Bedford receives the MBE for her services to community energy.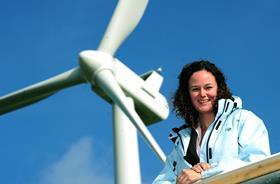 In her role at Stephens Scown, Bedford has been involved in innovative projects to ensure the continued deployment of renewable energy, including the first grid consortium in the UK. In her spare time she sits on the board of five community energy groups and has just completed an MSc in renewable energy.
She said: 'The communities I support have achieved so much and it is a pleasure to volunteer with them. I'm so lucky to have a job that I love. I'm going to continue to champion and support the energy projects that are making a difference in our communities.'
In other honours with a legal connection, James Eadie QC, first Treasury counsel, is knighted for services to law and government, and David Green CBE QC, former director of the Serious Fraud Office, for services to the criminal justice system.
David Anderson QC, former independent reviewer of terrorism legislation, is made Knight Commander of the Order of the British Empire.
CBEs go to: Robert Ayling, former chairman of the board of HM Courts and Tribunals Service, for public service; James Murdoch, professor of public law at the University of Glasgow, for services to education and human rights; Jennifer Temkin, professor of law at City Law School, University of London, for services to criminal justice; and Alun Tucker, former member of the UN International Criminal Tribunal for the Former Yugoslavia, for services to international justice.
Among those receiving the OBE are Clare Horrocks, former principal judge at the War Pensions and Armed Forces Compensation Chamber, for services to the armed forces and the administration of justice and His Honour Riaz (Raymond) Naqvi, resident judge at Sovereign Base Area Cyprus, for services to defence; Malcolm Richardson, national chairman, Magistrates' Association, for services to the administration of justice and Barry Valentine, barrister, for services to the legal profession and the courts.
Michael Rogers, who receives the MBE for services to policing and the community in the West Midlands, is a solicitor and director of West Midlands firm Banahan Rogers Smith.