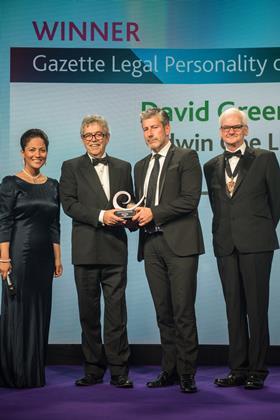 The Gazette is looking for legal professionals who are 'influential, inspirational and in the ­public eye' for its annual Gazette Legal Personality of the Year award.
The award aims to recognise those who have made an 'outstanding public contribution' to the profession. Nominations for the Gazette accolade, which is one of the Law Society's Excellence Awards, must be received by Friday 1 June.
The award is open to everyone in the legal sector.
Please submit your nomination by email to editor-in-chief Paul Rogerson: paul.rogerson@lawsociety.org.uk, explaining why s/he deserves to win in 2018. The Gazette's editorial team will draw up a shortlist of potential winners from your nominations.
The winner will be selected by a panel chaired by the editor-in-chief.
The Law Society Excellence Awards deadline has been extended
If you haven't yet submitted your entry for the Excellence Awards there is now more time to enter. The deadline for nominations has been extended until midnight on Friday 1 June.
Take this time to craft a successful entry, polish a work-in-progress or maximise success by entering another category.