Leading judges have urged the government to find more money for legal aid or risk the voluntary advice sector collapsing altogether. The Civil Justice Council, chaired by Master of the Rolls Sir Terence Etherton, said demand for pro bono services has increased 'dramatically' since the scope and eligibility of legal aid was restricted from 2013 by the Legal Aid, Sentencing and Punishment of Offenders Act.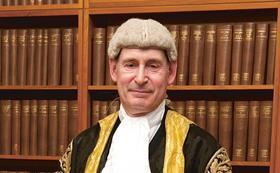 In its response to the government's review of LASPO, published before Christmas, the CJC says the number of providers is reducing year-on-year, with subsequent reductions in the levels of services and closures of law centres.
Many providers, the response notes, have 'simply walked away' from legal aid services due to low rates and 'onerous' contract requirements'.
The sentiments expressed will come as no surprise to those in the legal profession, but the intervention of a respected independent body will place extra pressure on the Ministry of Justice to cobble together extra funding as a result of its review.
The CJC says providers of pro bono advice has been hard-pressed to meet increased demand caused by reduced rates for practitioners. 'The sector has responded with innovation and increased effort, but is in danger of being overwhelmed,' says the response. 'Those in the frontline report turning away the majority of those seeking help, which begs the question of what is happening to these people.'
The CJC says providers have cited the heavy burden of bureaucracy in legal aid funding systems, which has added to the problem, but stated most of all that funding was the key factor. 'A relatively small resource invested to support the advice and pro bono sectors can go a very long way in terms of preserving or creating services,' the response states. 'Greater investment in early legal advice would help make legal aid provision more viable for practitioners.'
The MoJ announced last month that it would not meet its own deadline of the end of 2018 for publishing the LASPO review. The department said the review will be published 'early in the New Year' after it received submissions from more than 100 organisations and individuals.