Fourteen new 'Nightingale courts' are to be set up as part of a £113m initiative to convert hotels and event spaces to tackle a backlog of nearly 500,000 cases. The new programme will bring the number of emergency courtrooms to 60 by the end of March.
Walls in Manchester Crown Court will be knocked down to create a 'super court', large enough to house all parties involved in gang murder trials. A courtroom will also be opened at the Hilton in Deansgate.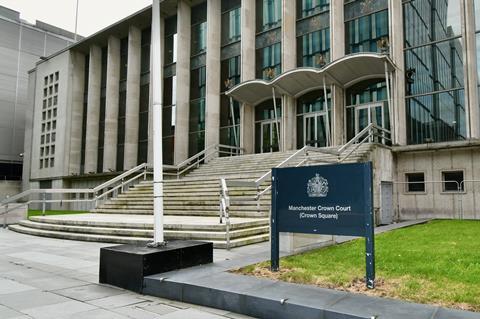 Liverpool, Birmingham, Wolverhampton, Chichester and Croydon are among those to receive extra courtrooms. A courtroom will also be opened in London's Barbican performing arts centre with two additional hearing spaces.
The sites will hear mostly non-custodial Crown Court cases, with the total number of Nightingale courtrooms set up across the country to enable more socially distanced trials increasing to 60 by the end of March 2021.
Justice secretary Robert Buckland said the move will provide a 'shot in the arm for the justice system'.
'We have achieved an immense amount in our battle to keep justice moving during the pandemic – restarting jury trials before anyone else, turbo-charging the rollout of video technology, bringing magistrates' backlogs down, and opening more courtrooms for jury trials,' he said. 'These new courts are the latest step in that effort, and I am determined to minimise delays and ensure justice is served for victims, defendants and the public.'
The Ministry of Justice highlighted in its announcement that outstanding cases in the magsitrates' courts have fallen by over 50,000 since the peak last summer. Whilst this is true, latest figures show the magistrates' court backlog increased three weeks in a row up to the week beginning 24 January, partly caused by increasing receipts. The outstanding backlog of 474,220 cases is 16% higher than the pre-Covid baseline.
The Crown court backlog by the end of January was 56,003 - 42% higher than pre-Covid - and has risen in every week since lockdown. The number of disposals recorded in the week beginning 24 January was the lowest weekly total - barring the two weeks covering Christmas and new year - since the start of November.
David Lammy, shadow justice secretary, said: 'Labour is calling for the rapid extension of Nightingale courts, war juries of seven in most cases while coronavirus restrictions are in place and the immediate roll-out of mass testing in courts so that justice can continue. We need urgent action to beat back the Conservatives' record-breaking backlog.'