The Treasury has set aside £30m for the Ministry of Justice to spend on Brexit preparations as further details emerged of the ministry's 'no deal' contingency plans.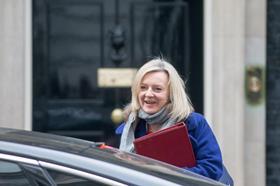 The £30m for the 2019-20 financial year was confirmed by former justice secretary Liz Truss, now chief secretary to the Treasury. The Attorney General's Office has been given £3m. The Home Office has been allocated the most cash - £450m.
The ministry was given £17.3m to cover Brexit preparations in 2018-19. Two-thirds of the cash covered staff costs such as salaries, recruitment, office accommodation and IT. The department has spent £10m across its 'business areas' to prepare for Brexit. It has employed 110 full-time employees working in: legal services (civil, criminal and judicial policy); government lawyers; corporate services; HM Courts & Tribunals Service and HM Prison and Probation Service; Judicial Appointments Commission; Judicial Office; and the Legal Aid Agency.
A ministry spokesperson said: 'It is the duty of a responsible government to prepare for every eventuality and this money will be spent on just that. Around two-thirds of the funding will be used to boost staffing to make sure we have the capacity to deal with potential increased workloads across the department.'
Meanwhile, justice minister Lucy Frazer has provided further details of how the ministry is preparing for a potential 'no deal' Brexit in response to assurances sought by the House of Commons justice select committee.
In criminal justice, the ministry is 'bringing forward' secondary legislation to address compensation for crime victims, criminal protection orders, criminal supervision orders and enforcement of financial penalties. Victims will still be able to access the UK compensation scheme and any eligible EU member state's scheme. The UK will revert to a Council of Europe Convention to help those who cannot access non-UK schemes. Criminal protection and supervision orders would be repealed but Frazer said such measures have rarely been used.
In civil justice, firms in the financial services sector will lose their automatic permission to perform regulated cross-border activities, including permission to service some contracts.
Frazer said: 'The government is taking action to address the risk of disruption to cross-border services into the UK, including by legislating to establish a temporary permissions regime. This will allow EEA [European Economic Area] firms to continue operating in the UK for a time-limited period after the UK has left the EU, while they apply for full authorisation from UK regulators. The government has also committed to legislate to ensure that contractual obligations (such as under insurance contracts) between EEA firms and UK-based customers that are not covered by the temporary permissions regime can continue to be met.'