US-based legal consultancy business Elevate has announced the acquisition of UK in-house advisory firm Halebury, a self-styled 'NewLaw' business founded by solicitors Denise Nurse and Janvi Patel. No financial details have been disclosed.
The merged company says it will provide 'flexible lawyering', helping in-house legal teams and law firms with advice and support in human resources, technology and managed services.
Halebury, founded in 2007 claims to work with more than 100 businesses. Elevate brings together lawyers, consultants and business experts to advise legal departments and law firms. The company has around 1,000 employees based in offices across the world.
Nurse said: 'Our team can now operate on a global scale, leveraging the best possible training and career development opportunities, and our clients will benefit from our ability to attract and retain the finest legal and business minds.'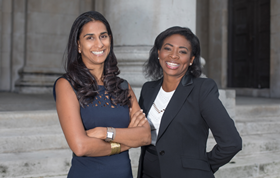 There is speculation that Elevate, which has been backed by Morgan Stanley Expansion Capital and counts Oracle and Facebook among its clients, could float on the London stock exchange.
Elevate chief executive Lokendra Tomar added: 'This is another important step in our strategy to revolutionise the sourcing options in the global legal services market.'
In the last three months of 2018, Elevate acquired legal AI technology and consultancy LexPredict and Sumati Group, a provider of contract lifecycle management (CLM) technology.
Halebury, an alternative business structure regulated by the Solicitors Regulation Authority, is based in Chancery Lane, London.