The first Muslim barrister to be appointed a Queen's Counsel has died two years after being diagnosed with cancer. The flag at Inner Temple was flown at half mast to mark the death of the trail-blazing anti-racism pioneer Sibghatullah (Sibghat) Kadri QC, who was called to the bar in 1969.
Kadri was at the forefront of the struggle against racial discrimination in legal education and at the bar, and became a leading civil rights lawyer and an authority in immigration law, Sharia and race relations.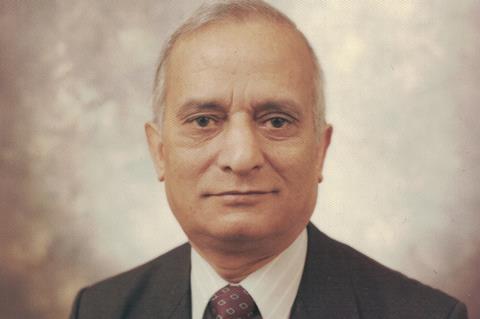 In 1970 Kadri co-founded the Society of Afro-Asian and Caribbean Lawyers (renamed the Society of Black Lawyers in 1981) aimed at eliminating racial discrimination among lawyers. He was also a leading force on the Bar Council's race relations committee.
In a Facebook tribute, his son Sadakat Kadri documents the life of his father, who was born in Uttar Pradesh in 1937. In 1949, he moved with family to Karachi in then West Pakistan, where he shared a single room with his parents and seven siblings, teaching younger children to fund his own education.
He was elected general secretary of the Karachi Students Union and was arrested for opposing martial law in Pakistan, and for speaking out for constitutional democracy and civil rights. He was detained following General Ayub Khan's 1958 coup, and spent six months in prison.
He moved to London, and in August 1961 he was admitted as a member of the Inner Temple despite not having a degree, on the basis that he should not suffer twice for his arbitrary imprisonment.
While studying part-time for the bar exams, he worked as a postman, a clerk for a mail order firm specialising in 'ladies slimming garments', and a waiter at a Kilburn curry house. The third job ended when a white customer drunkenly refused to pay his bill and stabbed Kadri in the face.
Studying for the bar finals at the Council of Legal Education, he staged a sit-in in protest over its unfairness towards Commonwealth students, supported by fellow radicals who would become Baroness Kennedy and Jack Dromey MP. He was later elected the first president of the Inner Temple Student Association, defeating the late John Laws, who became a Lord Justice of Appeal.
Kadri obtained a pupillage at Cloisters, but after being unable to get a tenancy anywhere, aged 35, he set up the UK's first multi-racial chambers at 11 King's Bench Walk. He later joined 3 Paper Buildings. Combining a specialist criminal, immigration and public law practice in the UK, as well as Pakistan, he took silk in 1989 and was later made a bencher of the Inner Temple.
His son wrote: 'His career as a barrister was defined by his lifelong opposition to racism, and though that provoked fierce criticism from legal reactionaries during the 1970s and 1980s, it's fair to say he won the argument in the end.'
David Berkley QC, head of chambers at 3PB, said: 'His contribution to the disadvantaged and disenfranchised was immense. A fearless campaigner against racism, injustice and inequality, he was for many a leading voice both in court and outside for the rights of diverse communities suffering from disadvantage and ethnic inequality.'
Kadri leaves his wife Carita Kadri, son Sadakat Kadri, daughter Maria Kadri and two grandchildren.