A conveyancer who changed her name after being banned from working in the legal profession has been jailed for five years for stealing more than half a million pounds from three employers.
Oonagh Grant, 57, of Altyre Close, Beckenham, Kent, pleaded guilty in February at Croydon Crown Court to three counts of fraud by false representation and three counts of dishonestly failing to disclose information for personal gain or to expose others to loss. She was sentenced last week.
Details of her crimes were highlighted by the Metropolitan Police on its website.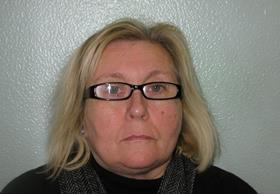 Grant was convicted in 2011 of stealing from a law firm she worked for by transferring funds into bank accounts which she controlled. She was sentenced to two years' imprisonment, suspended for two years. The Solicitors Regulation Authority banned her from working in the legal profession.
In 2013 Grant changed her name by deed poll to Frances Bernadette Grant. Under her new name, she did conveyancing work for a law firm in Lewisham, south London, as a self-employed contractor. She began redirecting funds, was caught and dismissed by the firm. An audit showed she stole around £28,000. The offences were reported to the police.
By this time, Grant had joined a law firm in Bromley, Kent, where she stole £223,950. She resigned when her employer was contacted by her previous firm.
Grant was arrested by detectives from the Metropolitan Police's Operation Falcon in December 2015. During the interview she denied all offences. She was released on bail on condition she did not work for a law firm.
However, Grant subsequently worked for a firm in Reading. When the firm was alerted to the SRA order, she was dismissed. An audit showed Grant had diverted funds into her personal bank account.
Grant was arrested in October 2016 for breaching bail conditions. Police say she was later released on bail by the court to have 'planned surgery'. Grant failed to attend a Crown court hearing on 23 November 2016 and another appearance due to being 'medically unfit'.
However, the Met says letters supplied to the court purporting to be from Grant's GP were fraudulent. She was arrested on 15 January this year on suspicion of fraud.
Operation Falcon's detective sergeant Daren Walby said Grant was a 'serial fraudster who believed that she was above the law' and who 'even went so far as to send fake GP letters to the courts to delay her trial'.
The Metropolitan police says Grant stole £536,250 from three companies between 1 January 2014 and 3 August 2016. Only one firm has been able to recover some of the stolen funds.
Anyone who may have employed Grant is asked to contact Operation Falcon by dialling 101.