Three years after announcing plans to build a new central court complex in legal London, the City of London Corporation has unveiled a glimpse of how the new development will look. It has also revealed that the 18-courtroom facility will be built alongside a new headquarters for the City of London Police, as well as a commercial development intended to help pay for the scheme.
The project, which will replace all of the City's courts apart from the Central Criminal Court, involves redeveloping the Salisbury Square and Fleetbank House site on the south side of Fleet Street. The masterplan and design work is being undertaken by a team led by Eric Parry Architects, the City of London Corporation announced.
HM Courts and Tribunal Service will take a long lease on the courts site from the City of London Corporation for a 'peppercorn rent', the corporation said.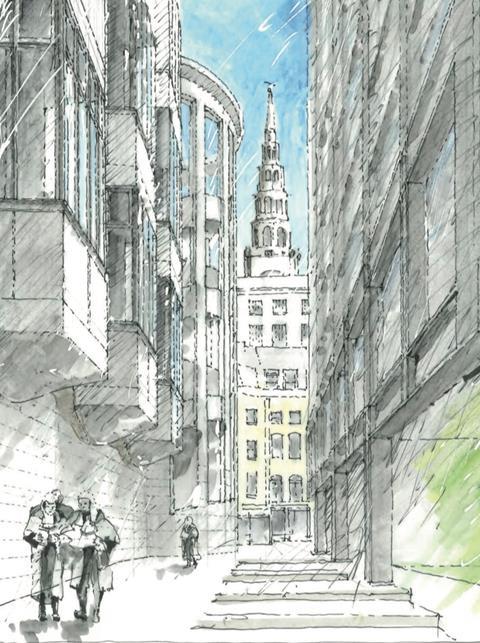 Meanwhile a commercial building is planned for the rear of the site 'providing office accommodation and space for retail, bars, or restaurants at ground floor level, creating a vibrant street scene on the route down towards the river'.
Launching an 'initial consultation' on the scheme, Chris Philp MP, courts minister, said: 'This new court, with 18 courtrooms, will strengthen our justice system and help us crack down on fraud and economic crime. It will enhance our global reputation, attracting even more of the world's most dynamic companies to conduct their business here. I encourage you to have your say on the consultation for this new court centre in Fleet Street.'
Catherine McGuinness, chair of the Policy and Resources Committee at the City of London Corporation said: 'Maintaining London's position as a world leading centre for legal services is essential as we lay the foundations for our economic recovery. This project aims to deliver a new civic hub that will house a state-of-the-art combined court and a new headquarters for the City of London Police in the heart of the Square Mile's legal and financial services cluster.'
City of London Police is currently headquartered in the Guildhall. The announcement said the new HQ will allow the force to embrace technological advancement and smart working practices.