Fees within the government's revamped emergency legal aid scheme for tenants facing eviction must be higher if the scheme is to remain sustainable, a housing specialist has said.
Last week the Ministry of Justice unveiled an 'ambitious new model' to deliver emergency advice and advocacy to people facing possession proceedings.
The department hopes the new housing loss prevention advice service will address a sustainability crisis in the legal aid sector. The new scheme comprises two stages: early legal advice (stage one) and an in-court duty scheme (stage two).
In stage one, practitioners would be paid a £157 fixed fee per client to provide early legal advice in social welfare law to those facing possession proceedings. In stage 2, which would operate in the same way as the current court duty scheme, practitioners would be paid £75.60 per client seen in London and £71.55 per client seen outside of London.
Jeinsen Lam, housing solicitor and team leader at South West London Law Centres, told the Gazette that the idea behind stage one is 'sound' and that it was good that the advice is not means tested. However, 'expecting providers to diagnoses resolve complex underlying issues for a fixed fee of £157 is I would say extremely unrealistic', he said.
'I also think that whilst the adjustments to fees within the consultation for non-attendance are welcome, it falls short of making the duty scheme sustainable, as the proposed fees for when you actually see a client (£75.60 per client) do not reflect the actual work that practitioners do for each case.'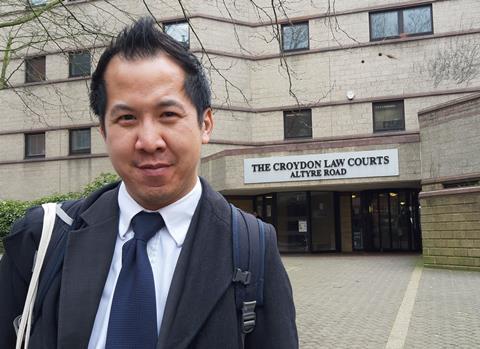 'When a duty adviser sees a client on duty, they will generally be taking instructions, considering documents, undertaking advocacy, having a post-hearing conference and then drafting a detailed advice letter. The duty fee of £75.60 is slightly more than the cost of one hour of certificated work (£63 per hour). My view is that this takes far longer than one hour to represent and advise a duty client. As such, the proposed duty fee is still far too low and I think that the consequences will be that many duty schemes will continue to be loss leading.'
Lam also questioned who would do the follow-up work that will prevent evictions and homelessness.
'Are there actually the providers available to undertake follow up debt/benefit work? Is the assumption that housing solicitors have the capability/capacity to diagnose debt/benefit problems and resolve them within a stage 1 fixed fee?
'It is certainly true that some housing advisers do have some experience of advising on benefit/debt issues, but they are often not specialists. If you identify that someone has accrued rent arrears due to the benefit cap and then worked out if the client claimed personal independence payments, they could escape the cap. Who is going to help the vulnerable client claim PIP? If it is refused, who is going to appeal it? The work isn't in scope and the fixed fee won't cover the work needed to appeal even if you have the ability to undertake it.'
The consultation closes on 22 January.