A Midlands practice has expanded its operation into Birmingham after merging with a 100-year-old firm. Pearson Rowe, based in St Paul's Square, will become part of the mfg Solicitors network, which already has five offices across Worcestershire and Shropshire.
Two partners and 13 staff members will migrate to the enlarged full-service firm to create a business with 37 partners and more than 160 employees.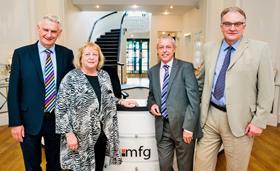 Suzanne Lee, partner and managing director of mfg Solicitors said: 'We have continued to grow both organically and commercially over recent years and have been carefully focusing on the best and correct strategic opportunity in Birmingham for some time. To gain a foothold in Birmingham's thriving legal market through a merger with such a respected city law firm is therefore perfect for us.'
The expansion comes five years after mfg merged with Ludlow firm Phillips & Co and Bromsgrove practice Scotts Holt & Sellars.
Meanwhile, City firm Wedlake Bell has completed its takeover of the London practice Stitt & Co, creating a business with 66 partners.
Four partners from Stitt and Co, along with eight members of staff, have joined Wedlake Bell and will add to established practices particularly in commercial litigation, commercial and residential property and private client.
The newly merged firm is based at Wedlake Bell's offices in Queen Victoria Street, the 34,000 sq ft space that now houses all of the firm's partners and employees.
Martin Arnold, managing partner at Wedlake Bell, said: 'The merger will allow us to create additional benefits for our clients. We are very pleased to welcome the four partners from Stitt & Co and the depth and breadth of expertise they bring to further strengthen and complement Wedlake Bell's offering.'