A consortium of investors led by a multi-disciplinary network has announced the acquisition of Manchester firm Glaisyers Solicitors. ETL Group, a German-headquartered network of professional services firms, has joined up with two former partners at Manchester firm Kuits to lead the takeover of the 40-year-old law practice.
David Jones and David Marlor have invested alongside ETL Group and will become head of litigation and head of property respectively.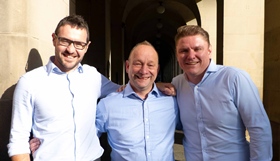 The new owners say they will invest 'substantial capital' to support the growth of Glaisyers, particularly in relation to IT and recruitment, and eventually to increase its offering in the UK and to overseas clients. The firm will imminently open a second office in Mayfair, London, it was confirmed today.
Nick Johnson, who will remain as Glaisyers' managing partner, said: 'The cash injection, expertise and energy and passion that the investors bring to the table will allow us to take the firm to the next level and continue to build a unique practice model. The long term objective is to be a one stop resource for small to medium size enterprises.'
ETL Group is a global network combining tax, legal, audit and accounting services, with a 7,000-strong team of professionals advising more than 200,000 clients in 50 countries.
Glaisyers, a full-service firm specialising in the SME market, has annual revenue of £4.3m and 70 employees.
Jones, one of the investors, said the consortium's credentials allows the firm to create a 'stand out model that will shake up the legal scene'.
He added: 'ETL gives us direct access to global professional services firms that will lead to significant work volume both to and from Glaisyers, designed for the benefit of our clients.'
Jones said he expects staff numbers to increase by 25% over the next year as the firm deals with higher value complex work.
During talks about the acquisition, Weightmans' Liverpool office acted for the existing partners and Ryan Brown at Browne Jacobson's Manchester office acted for the new investors.