Highly-regarded Manchester firm berg has announced it is to merge with international firm Kennedys. Around 50 berg staff will move into Kennedys' new premises on Oxford Street, Manchester, by the end of the year as part of the agreement, it was announced today. The berg name will disappear as part of the deal.
The practice, which was founded in 1980 by senior partner Reuben Berg, has risen to prominence as one of the first firms to challenge banks over mis-sold derivatives.
This led to a number of successful cases, the most recent of which was the settlement for a couple allegedly mis-sold financial insurance products by RBS.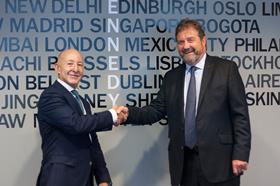 Reuben Berg (pictured left) said the firm can retain its approach to providing legal services even within a larger organisation.
'Kennedys is the right fit for us to take this entrepreneurial spirit into a global arena, without compromising our imaginative approach,' he said. 'We have turned down many opportunities over the years that weren't the right fit to grow berg in the way we wanted, and I'm very excited that this merger will create a bright future for our colleagues and clients, staying true to berg's values.'
Nick Thomas, senior partner at Kennedys, said the merger allows the firm to offer enhanced commercial litigation services and tap into potential growth in the Manchester legal market.
He added: 'The city's talent pool and our increased presence there provide a strong platform to source, attract and retain talent.'
Last month, Kennedys announced a merger with US-based insurance specialist Carroll, McNulty & Kull, creating a new organisation with more than 1,000 lawyers.