The Ministry of Justice says its delayed review of the impact of its controversial legal aid reforms is nearly done after publishing a table showing an alarming drop in the number of people who have been granted public funding in welfare benefits cases over the last decade.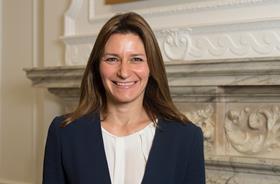 Justice minister Lucy Frazer was responding to a written question from Chris Ruane, Labour MP for Vale of Clwyd.
Figures show that there were 135,751 legal help matter starts and 51 civil representation granted certificates in 2008-09. These figures have plummeted to 443 legal help matter starts and nine civil representation granted certificates in 2017-18.
The decline is at its steepest around the time the Legal Aid, Sentencing and Punishment of Offenders Act (LASPO) was introduced in April 2013. There were 82,554 legal help matter starts in 2012-13, falling to 163 in 2013-14. This figure meanders up and down over the subsequent four years, but not by very much.
Frazer said the minister had spent several months conducting a wide-ranging review of the legal aid reforms and engaged with more than 100 organisations and individuals. 'Having finalised this engagement at the end of November, the review is now near completion and will be published shortly,' she ended her response.
Nimrod Ben-Cnaan, head of policy at the Law Centres Network, told the Gazette that remaining legal aid for benefits appeals 'is just half of one per cent' of what it was pre-LASPO: 'It is barely there. Over years of major welfare reform, this legal aid cut has left tens of thousands of vulnerable people in the lurch when trying to secure their livelihood. Last year there were over 238,000 first-tier benefits appeals and legal aid helped with none - they're no longer in scope - and with just 452 Upper Tribunal appeals across all of England and Wales.'
Ben-Cnaan said benefits are key to the income of many people applying for legal aid. 'Denying people help with appeals not only obstructs their right to challenge the state, but also hampers resolving other problems, such as housing or debt, which are still in scope. We have repeatedly made this point to MoJ and we expect to see it addressed in the LASPO review,' he said.
Meanwhile minutes for the latest meeting between the Legal Aid Agency and civil legal aid practitioners, chaired by the Law Society, shed further light on the government's legal aid statistics.
The minutes, published this week, state that the ministry would like feedback about the format, detail, categorisation, timing, interpretation and other aspects of the report.
Representative bodies have asked for the number of providers to be published at firm level, rather than office level. Richard Field, the ministry's head of legal aid statistics, acknowledged that the dataset for legal aid providers 'could be difficult to use but explained that this was the flipside of making available a very large amount of detailed information', the minutes state.