Two firms prominent within the legal aid community are to merge, creating what could be one of the largest high street firms in London and Essex.
Waterloo-based Steel & Shamash, founded by Gerald Shamash, who is known for advising the Labour party, and Edwards Duthie, which has offices in east London and Essex, will officially merge next Monday. The combined firm will have 140 staff and be called Edwards Duthie Shamash.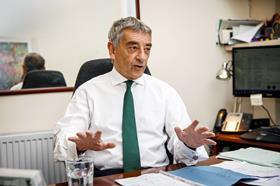 Steel & Shamash, which has six partners and over 20 fee-earners, was set up in 1981. It was one of the first firms to be granted a Legal Aid Agency contract and does legal aid work in child care, community care, criminal, family, housing and mental health.
Edwards Duthie, which has nearly 100 staff across five offices, covers crime, commercial property, employment and dispute resolution, family, housing, personal injury, medical negligence, and wills and probate. About 60% of its work is legal aid.
Shamash highlighted the pressure on firms to become larger or merge when he was profiled in the Gazette last year. He spoke of his excitement this week at what he called a 'new chapter', saying the negotiations, which began at the 'back end' of last year, have been 'incredibly smooth'.
Shaun Murphy, senior partner at Edwards Duthie, said: 'We hold Steel & Shamash in high regard. Having them with us is a great feather in our cap. I feel very buoyant about the possibility for the future notwithstanding the legal aid regime we have to work in.
Murphy said the legal aid cuts the firm has been up against over the last few years 'puts more and more pressure upon us. It creates an imperative for economies of scale. An opportunity emerged with Steel & Shamash which meets that imperative'. However, he stressed that the agenda is not to cut staff but to become bigger and better: 'We're not looking to do the same for less. We're looking to use the same amount of people to achieve more.'