The nominees of this year's legal aid 'Oscars' have been announced, with the shortlist including the Belfast firm representing families of people killed in the 1974 Birmingham pub bombings.
Winners of the 15th Legal Aid Lawyer of the Year awards, which is organised by the Legal Aid Practitioners Group, will be announced in London on 5 July.
KRW Law is one of three nominees for legal aid firm/not-for-profit agency of the year, an award which is sponsored by the Law Society.
The firm was nominated by the Justice4the21 campaign. Julie Hambleton, whose sister was among the 21 killed in the bombings, said: 'This incredible law firm has provided the families still grieving the loss of their loved ones with the most professional and powerful legal representation.'
'The whole team has been available to us 24 hours a day, every day. They investigate any new information as it becomes available with a level of immediacy that would put many police forces to shame.'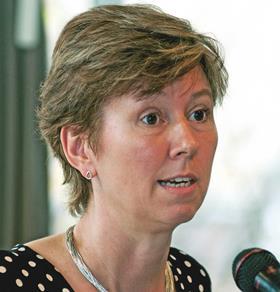 KRW Law has represented eight of the families of the victims pro bono since 2014.
Earlier this month the firm said it had been informed by the Legal Aid Agency that, following lobbying resulting in an amendment to the legal aid regulations, KRW has been offered a contract to continue to represent its clients. Additionally, financial eligibility limits for legal aid have been waived.
The firm said the contract was a 'complex legal document/specification' but it hopes to represent its clients at the next hearing in Birmingham on 31 May, which will address the scope of the inquests.
LAPG director Carol Storer said the calibre of this year's nominations was 'staggeringly high and a real reflection of the expertise, grit and compassion which characterises the legal aid sector'.
The categories and finalists are:
Children's rights
Jennifer Twite, Just for Kids Law
Solange Valdez-Symonds, Project for the Registration of Children as British Citizens/Migrant Resource Centre
Melanie Stooks, GT Stewart
Criminal Defence
Zoe Gascoyne, Quinn Melville
Graeme Hydari, Hodge Jones & Allen
Jude Lanchin, Bindmans
Family private including mediation
Mark Gilmartin, Wilson Solicitors
Mary Shaw, David Gray Solicitors
Amardeep Pattni, Sternberg Reed
Family public
Sheila Donn, Philcox Gray
Deborah Piccos, TV Edwards
Heather Thomas, Creighton & Partners
Immigration and asylum
Kaweh Beheshtizadeh, Barnes Harrild & Dyer
Toufique Hossain, Duncan Lewis
Marcela Navarrete, Wilsons Solicitors
Legal aid barrister
Brenda Campbell, Garden Court Chambers
Jesse Nicholls, Doughty Street Chambers
Philip Rule, No5 Chambers
Legal aid firm/not-for-profit agency
Community Law Partnership
Harrow Law Centre
KRW Law
Legal aid newcomer
Jennifer Blair, No5 Chambers
Paul Clark, Garden Court Chambers
Ravi Naik, Irvine Thanvi Natas
Tom Royston, Garden Court North
Public Law
Dr Keith Lomax, Minton Morrill
Katy Robinson, Wilson Solicitors
Christopher Stanley, KRW Law
Social and welfare
Laura Hobey-Hamsher, Bindmans
ManjitMandair, Osbornes
Gareth Mitchell, Deighton Pierce Glynn
Stuart Luke, Bhatia Best
Access to justice through IT
Advicelocal, Lasa
Law for Good, Legal Geek
Advicenow, Law for Life
Outstanding achievement
To be announced at the ceremony