Bosses at national firm Slater and Gordon insist this will be the last year they have to reflect on multi-million pound losses, as the hangover from its previous owners finally wears off. The UK business this week reported that in the 2016/17 year ending June 2017 it lost more than £52m, while revenues fell 26.9% to £231.5m.
The reporting period ended six months before its former Australian owners officially handed over control of the firm to a consortium of hedge funds led by Anchorage Capital. This resulted in secured debts of £386m being written off.
Since last summer, offices in Sheffield and Fareham have closed as part of consolidation measures, but the new owners have pledged to spend £30m on new technology and broadening services over the next three years.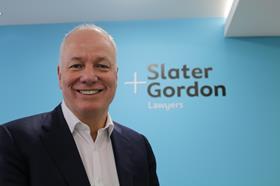 Chief executive David Whitmore said the accounts, filed this week with Companies House, gave a 'historic perspective' and shareholders were now in process of creating a 'clean company' that will be making a profit this year.
Whitmore said: 'We have got to a situation of relative positivity. It is a very significant change which means the business looks very different. We obviously had very poor trading as we went through those problems. We are a new business which has new ambitions and is pushing forward in a very different way.
'We feel we have stabilised the business. We had to go through the unfortunate process of closing offices but that programme is now complete.'
At its lowest point in 2015/16, the business lost £400m in a year as the acquisition of Quindell plc backfired spectacularly and the Australian parent company's share price plummeted, wiping out most of the value of the company.
Consolidation had begun by 2016/17, with wage bill slashed in a year from £134m a year to £111m. Headcount had come down by June 2017 by almost 500 to 3,176. It is understood that figure has since reduced further.
Staff have told the Gazette under previous regimes that they felt they were not kept up to date with developments in the business. Whitmore said that has improved in recent months, with managers embarking on a series of roadshows to explain what changes are ahead.
He said Slater and Gordon, which draws a significant proportion of its income from personal injury work, sees the reforms in the market as an opportunity, buoyed by automated systems in the pipeline for handing claims.
'There is going to be technological change and improvement in the business over the next 12-24 months,' Whitmore added. 'We have also started to reassure our folk about how we are really in this for the longer term. We have a very good starting position in what is still a relatively fragmented market. We actually feel quite bullish about the market opportunities and the opportunities of the reforms.'