Staff at trade union firm Thompsons Solicitors are planning to walk out this month in a dispute about pay.
The GMB union confirmed today that its members at the firm intend to take industrial action nationwide on 18 October after their demands for a 3.5% increase were not met.
GMB members voted 89% in favour of taking action on a turnout of nearly 73% after the firm made an original offer of 1%, followed by a revised offer of 2% after talks at ACAS.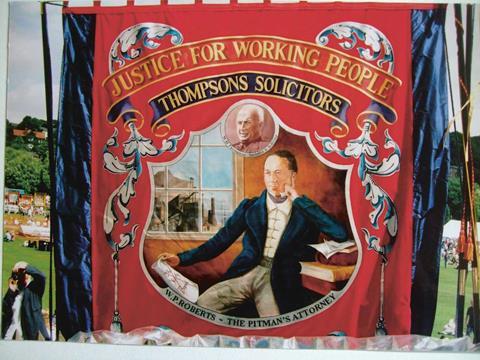 The firm, which is a backer of the Labour Party and counts shadow justice secretary Richard Burgon MP among its alumni, says it cannot afford to match members' requests in what is an uncertain time for firms that rely on income from personal injury work.
The GMB says picket lines are expected at the firm's offices in Bristol, Plymouth, Cardiff, Birmingham, Stoke, Leeds, Manchester, Liverpool, Belfast, Congress House (London), Condor House (London), Dagenham, Norwich and Newcastle.
Natalie Houghton, GMB national officer, said the union had written to the Thompsons on Friday with available dates for talks and a list of questions about the firm's accounts.
She said: 'GMB hopes Thompsons can be transparent and give us some clear cut answers as well as scheduling urgent talks to avoid strike action. Our members have been very reasonable for a number of years. They have accepted below inflation pay increases only to find that equity partners have taken millions in drawings on profit. The strength of feeling from the members is loud and clear but we genuinely hope that strike action can be avoided and remain available for urgent talks.'
The firm's most recently published accounts, filed with Companies House in December and covering the 2017/18 year to 30 April 2018, operating profit increased 80% to £13.3m, while turnover was up 5% to £65m. Staff numbers had been cut from 794 to 744, all through reductions in non-case handlers.
Over the same period, profits distributable to members increased from £1.8m to more than £4m. Accounts confirm that in June 2018 the supervisory board resolved that from the profits made in 2017/18, 50% should be retained in the business, after which members' outstanding personal capital loans be paid in the first instance and thereafter the remaining profits of the LLP be distributed to members.
The most highly remunerated member for the year had a net income of £266,000, with a retention of £127,000 and tax provisions of £409,000, giving a total of £803,000. The equivalent total remuneration for the highest-paid member in 2017 was £522,000.
The Gazette understands projections for the most recent financial year show that profits have fallen sharply.
In a statement, Thompsons said it values its staff and wants to resolve the dispute, but the financial reality for all PI specialist was that times are tough due to LASPO and the introduction of fixed fees.
'Our priority is to find a solution that rewards staff while also protecting the long-term sustainability of the firm,' said the firm. 'We are committed to trade union values and recognise the right of our colleagues to strike, but we are seeking to move forward constructively and we have agreed to further talks at ACAS on a date proposed by the GMB. We wish we could afford to pay the 3.5% consolidated increase that the union is seeking this year, but we can't and the GMB have seen our accounts to confirm this for themselves.'