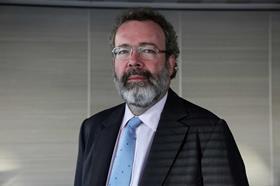 Firms are rethinking their international expansion plans because of volatility in the global economy, according to new research.
Nearly a quarter (24%) of finance directors of the UK's top 100 law firms (by revenue) surveyed by Thomson Reuters Legal said it was likely they would look to expand abroad as a means of improving profitability – down from a third (33%) last year.
Expansion interest in Sub Saharan Africa experienced the sharpest decline. The region has been hit by weaknesses in oil and metal prices; this year not one respondent marked it as an target for expansion, compared with 64% last year.
Stephen Denyer (pictured), the Law Society's head of city and international, said most international firms had substantial and growing Africa practices covering areas such as finance, infrastructure, mergers and acquisitions, and disputes.
'In the majority of cases, firms do not perceive a need to have a local presence in Sub Saharan Africa to sustain and develop these practices, preferring instead to rely on locally based relationship law firms for local law and delivery elements.'
The exception, Denyer said, was South Africa, which he described as a regional hub in its own right. He predicted that more international firms would establish a presence there, 'albeit a fairly small one in most cases'.
Interest in Russia also fell considerably due to concerns over sanctions imposed on the country by the US and EU in response to the annexation of Crimea. Nearly half (48%) identified it as an area for expansion last year; this year only 12% did so.
International firms have already begun scaling back their Russian offices. Earlier this year magic circle firm Clifford Chance laid off 10 staff – five lawyers and five members of business services – from its Moscow-based team.
Another magic circle firm, Allen & Overy, consolidated its corporate markets practice into its broader finance team, which resulted in a 'small number of people' leaving, a spokesperson said.
Meanwhile, the survey found China to be the most attractive destination for international expansion. North America, Western Europe and Japan gained in popularity compared with last year.