Law firms are in a 'unique' position to influence employees, suppliers, clients and policymakers on climate change, according to Law Society chief executive Desmond Hudson. But are practitioners also seizing the business opportunities offered by driving sustainability and environmental issues, or are they ceding ground to other professional services?
It is a time of mixed messages. The coalition government came to power promising to be the 'greenest yet', but the protracted economic downturn means the mantra is all about 'growth', with the environment taking a back seat. Yet the environment still dominates the headlines. Issues range from front-page warnings of potential blackouts and electricity rationing in the autumn, to poor take-up of the government's flagship energy efficiency programme the Green Deal. Other issues include the growth of green leases, new corporate reporting requirements, the simplified CRC Energy Efficiency Scheme (formerly the carbon reduction commitment), growth in renewables and the debate over fracking.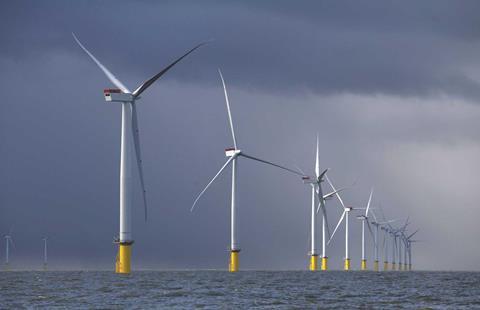 So, in the green debate, how proactive are practitioners in private practice, in-house and in local government? At the UK Environmental Law Association's 25th anniversary conference earlier this month, chair Mark Brumwell, a partner with Anglo-Scottish firm Dundas & Wilson, told practitioners they must play their part in countering the 'clear threat' that ineffective, and counter-productive law and practice will be allowed to develop under the guise of saving money or easing economic development.
'The whole mood has changed, now growth is the magic word,' agrees Angus Walker, a partner at London practice Bircham Dyson Bell, which specialises in large infrastructure projects. He highlights recent legislation, including the Growth and Infrastructure Bill and the draft Deregulation Bill published this month, which seeks to relax restrictions on infrastructure projects, or remove some of the duties introduced in the Climate Change Act 2008. 'If that act was the high point, we are still going downwards,' he says. 'It is symptomatic that when the chips are down, the environment will suffer.'
One way the profession is responding to the challenge is through the Legal Sector Alliance, which has grown to more than 250 law firms since its launch four years ago, and now accounts for more than a third of all solicitors in private practice in England and Wales. Firms not only commit to reducing their carbon footprint and adopting environmentally sustainable practices, but also to raise such issues with clients. However, there are still barriers to progress. A recent LSA survey of 69 member firms found that two-thirds advise their clients on climate change issues, with just over half engaging with them on environmental and sustainability issues, and a third providing training.
But other firms report a reluctance among fee-earners to engage in case it damages the firm's relationship with clients, while others blame lack of time and resources, and the perception that firms have limited influence over clients. What is clear is that environmental law now extends into many areas. Traditionally, it has been seen as a regulatory issue but now goes far wider than that, says Helen Garthwaite, head of sustainability (UK) with international firm Taylor Wessing. 'Environmental law has consequences for those working in real estate, in corporate, in lending, for those acting for investors who regularly ask about potential new green taxes. In the IP field, there are issues about fast-tracking green patents which show you the breadth of areas it touches.'
The initial motivation for business may have been more about green labels and badges, and good PR, she says. 'But now it is part of business strategy and responsibility reaches board level. A good lawyer is not only a legal adviser but also a business adviser so we give commercial advice in context. That context is a world which is driving sustainability higher up the agenda.' Brumwell agrees: 'What we have seen is many people who were getting a name for themselves as pure environmental lawyers, myself included, diversifying into tangential areas, particularly energy.' Renewable energy contracts are a particularly buoyant area. Money is being poured into wind farms and the infrastructure to support them, which is producing a lot of legal work, he says. Environmental lawyers are also getting more involved in the contract side of the waste industry rather than just permits.
'Being able to future-proof investments and look at the risk and rewards that are associated with environmental regulation is very important,' he adds. 'You need acute political antennae to pick up changes, not just in Westminster but in Scotland, Wales and Northern Ireland which have policies specific to them. The danger is that something which may look good as we come out of the recession, when environmental issues have been in the background, may not look so good in five years' time.'
Environmental lawyer Colleen Theron advised companies on complying with their environmental law obligations while working with City firms and as a partner with Sussex-based ASB Law. She then joined LexisNexis's environmental team as a professional support lawyer before starting her own consultancy, CLT envirolaw, in 2009. While she acknowledges that the market is still 'very edgy' about paying for green advice, she says practitioners, particularly in medium-sized firms, are missing a huge business opportunity by not driving sustainability with clients. 'There is so much law in this area, yet when you look at who is driving the agenda and who is giving advice it tends to be the Big Four accountants. I think lawyers have ceded a lot of ground in this space.'
So what are the key environmental issues for practitioners? The government's much-heralded Green Deal enables home and business customers to fund energy-saving measures with loans repaid over 25 years through their energy bills. But so far, despite 40,000 assessments being carried out, government figures show only a handful of consumers have taken up the offer. Peter Rodd, senior partner at Kent practice Boys & Maughan, is chair of the Law Society's Property Section. He says the Green Deal is going to 'exercise the minds' of property lawyers.
'We thought from the beginning that there would be lots of complications which the government hadn't thought through,' he says. 'You are encumbering your property with a loan. Nobody knows what the attitude of mortgage lenders is going to be or, indeed, what that of the prospective buyer will be. They may like the idea of solar panels, wall insulation or a new boiler but, when they discover the cost and that they will be paying for it through their electricity bill, may want the seller to pay the loan off first. We are already coming across situations where people signed up for solar panels when there were good deals on offer, who are only now finding the terms they signed for leasing their roof space aren't acceptable to mortgage lenders when they want to sell.'
Garthwaite says the Green Deal may get a 'kick start' when in 2018 it becomes unlawful to let a building below a certain energy grade. When green leases, which impose obligations on landlords and tenants to achieve targets for energy consumption, first came in, Steve Petty, a commercial property solicitor with Warwickshire firm Cousins Business Law, wrote a blog warning that the uncertainty surrounding them could make them difficult to sell on. Five years on, he says: 'I still haven't dealt with a single green lease – they just haven't caught on at all in the commercial property sphere.
'My experience dealing with SMEs is that they have so many other pressures on their businesses at the moment that environmental issues don't even register. The only possible exception is one property developer client who is keen to implement green energy solutions in a development.' There has been more interest among larger companies, though Brumwell says it is still difficult to convince many landlords or tenants that the financial advantage is sufficiently certain to put the effort in. 'Anything new which introduces what some might see as a market impediment hasn't been attractive,' he says.
For Nicholas Roberts, of counsel in Hogan Lovells' real estate team, green leases now come 'comfortably within the spectrum of normal', with interest from some of their major institutional clients. But while progress has been made, anything which imposes positive obligations on tenants remains a 'definite no-no'. Where green leases can really work, he says, is in retrofitting existing buildings, where tenants want the landlord to make improvements before they take the building on, or the tenants receive inducements to address inefficiencies.
Garthwaite believes the market is maturing. In 2009, Taylor Wessing produced a groundbreaking report, Behind the Green Façade, the first comprehensive analysis of the property industry and issues over sustainability. This was followed in 2010 by Hitting the Green Wall… and Beyond. 'People asked us to do more surveys and reports,' she says, 'but with people taking up the challenge with green leases and a much greater awareness of green contracts, we decided instead to participate in industry forums to get messages across.'
The firm also practises what it preaches with a green memorandum of understanding concerning the lease on its City offices. 'We are fortunate to have a green building,' says Garthwaite, 'but we are also fortunate to have a landlord in Land Securities with whom we can work collaboratively. Some law firms may think, we are a business too, why should we care? But we are a service profession and clients who have sustainability and environmental goals will look to their law firm to [identify] with that. Dealing with those issues with your own business helps you unlock them for others.'
Certainly, proving green credentials is vital to secure public sector contracts and increasingly resonates in the private sector. As Roberts points out: 'Your sustainability credentials are a prerequisite for pitches for new clients, or as part of panel reviews, and you have to provide hard evidence of targets and your expectations of meeting them. It is not enough just to go through the motions.' Moving on to the energy debate, there is huge potential for practitioners to be involved in the future direction of both the old and new industries.
For James Taylor, supervising associate with Simmons & Simmons, one of the most interesting developments is the concept of 'community benefits', which will play a key role in the nuclear, fracking and renewables industries. 'We have always had mechanisms for developers to channel funding into the community or local authority in terms of building roads, a new leisure centre or a school,' he says. 'But communities are going to wake up soon and realise they have the right to ask for things themselves – and they will make their voices heard.'
It will be a new cost to doing business but they will be advising clients to be proactive. 'If it gets you a smooth ride through planning it will be worth it,' he says. Taylor began reading up on fracking eight years ago when he saw there would eventually be some 'unstoppable arguments' about developing it as North Sea gas declines.
'This is an area where community benefit is going to be so important,' he believes. In the US, landowners have a stake in the hydrocarbons beneath their land and get paid royalties per unit of gas produced. In the UK, those rights are vested in the Crown, which licenses them to private companies, so landowners have little incentive to allow it on their land as they only get compensation for nuisance.
This has prompted the government to set up an Office of Unconventional Gas and Oil to come up with planning guidance and a community benefit programme which will encourage fracking. 'Every aspect of fracking is going to be scrutinised and challenged by the NGO community,' he says. 'It will be important to give clear, rational, pragmatic advice about the risks and benefits, as there is a lot of misinformation about. As a City lawyer, one tends to act more for developers than communities and there is going to be a long battle to convince people it can be done safely.'
The government is currently steering a new Energy Bill through parliament. 'The government's lasting legacy will be how it changes our energy mix,' Taylor says. 'How are we going to keep the lights on? It is a hackneyed phrase but it raises the question, how bold will the government be? There will be lots of interesting developments and laws as a result.'
Any moves in environmental law can also be a big issue for in-house counsel. Commerce and Industry Group member Moin Uddin, who works for a European engineering and construction organisation, says: 'Sustainability is embedded in our business strategy, given our core business is eliminating energy waste through insulation.' He says the legal team gets involved in reviewing reporting literature and putting together bidding information, as well as reviewing clauses from an environmental liability perspective. More and more projects require the organisation to comply with detailed environmental protection clauses. 'We also need to show our environmental credibility when we try to get qualified/enlisted as contractor or suppliers to major energy companies.' When seeking external legal advice, he says 'it will certainly add value to a firm's proposition if it has additional environmental awareness and can suggest relevant contractual mechanisms and clauses'.
Stockton-on-Tees Borough Council's environmental goals have brought its legal team into the heart of decision-making. Set in the Tees Valley, which hosts the largest integrated heavy industrial area in Britain, the authority sees developing green energy strategies as a vital part of its role. It recently signed the country's biggest fully-funded Green Deal to retrofit more than 5,000 private homes with external wall insulation.
David Bond, the council's director of law and democracy, is a member of the corporate management team of the council, which means he is involved strategically from the start in the authority's approach to environmental issues. That approach, combined with pressure from budget cuts, means they are doing much more varied and complex work – 'it is in-house first', he says, 'so it is extremely important we are up to speed with environmental issues'.
As Ged Morton, one of the council's principal solicitors, says: 'We are willing to pick up whatever is thrown at us. We will seek external legal advice if we need it, but our approach is to go out and research it ourselves so we develop the necessary skills and knowledge. Ten years ago, if you asked a local government legal officer if they made a difference to people's lives, they would struggle to make a case for that. But now you can see the difference you make because you are involved in projects as part of a team and its success is a success for everybody.'
With so much to offer, is this a field that is attracting young lawyers? Brumwell says interest in UKELA's student programmes has dropped because there have not been many jobs to go for. 'There are fewer people working in environmental law than before the recession,' he says, 'but as transactions come back firms will fairly quickly be looking round and saying "we need an environmental lawyer".' What is crucial, Garthwaite concludes, is to build up knowledge for tomorrow. 'It is not good enough just giving clients advice for today,' she says. 'Looking forward is the key. Practitioners have to identify the challenges ahead for tomorrow's world – because it isn't far off.'
Grania Langdon-Down is a freelance journalist