Gareth Farrelly was no ordinary footballer. As he is greeted by well-wishers in his latest workplace, it is clear he will be no ordinary solicitor, either.
A nomadic professional career was brought to an abrupt end in his early 30s after run-ins with authority, an employment claim and a transfer saga that would change football's rules.
Now he finds himself embarking on a new career at the end of a career and bucking the stereotype of footballers who can barely string a sentence together.
'One of the things I find really difficult is to have gone from being (arguably) good at something to being at the bottom of the scale,' he explains. 'There is no shortcut to knowledge and you build your legal career based on experience and what you learn along the way. That has been and remains a challenge.'
Farrelly is a trainee solicitor at commercial litigation firm Peters & Peters. His training contract is set to end in January. That will bring to a close an education he largely abandoned at 17 when he moved from his Dublin home to Birmingham to play for Aston Villa.
'There was a requirement that we had to continue with some level of education, so I think I did a BTEC in business and finance, but I was not very dedicated. It was a part-time day release course which was standard in the academy structure.
'I was probably one of the most ill-equipped people to move away from home. It was a massive culture shock and it took me a while to get used to it.'
At Villa he would find a gang of fellow Irish players in Ray Houghton, Steve Staunton and Paul McGrath.
Farrelly says central defender McGrath was the best he ever played with. That is some accolade from a man who went on to also share a dressing room with countryman Roy Keane, Nigerian playmaker Jay-Jay Okocha and World Cup winner Youri Djorkaeff.
A lack of first-team opportunities at Villa, along with a falling out with coaches at the club, led to a £700,000 move to boyhood favourites Everton. The negotiations, interestingly for someone later attracted to commercial law, were not complicated.
'I joke about it now, but I actually signed the contract before we finished negotiations. I knew I wanted to play for Everton; I wasn't going to go anywhere else.
'I didn't give any thought beyond playing for the team I supported. One of my heroes [manager Howard Kendall] wanted me to sign and it was as simple as that.'
Everton have a proud record of spending longer in English football's top flight than any other team. In 1998, however, that record was under serious threat. The successes of the mid-1980s were a distant memory and dramatic escapes from relegation seemed to be an annual hazard.
The club's fate would be sealed with a home game against Coventry, where the Toffees needed to better the result of Bolton Wanderers, who travelled to Chelsea. That scenario was ensured by Farrelly, who scored a wonder goal with his weaker right foot to ensure he need never buy a pint in Kirkdale again.
That euphoria was short-lived: Kendall was replaced by Walter Smith and Farrelly's face did not fit. He departed for – ironically – Bolton, where he was required to help the team return to a premier league from which he had helped demote them.
Farrelly was future England manager Sam Allardyce's first signing at Bolton, and he encountered the boss's modern methods first-hand. Not for the first time, though, Farrelly had already done things his own way.
'Sam started to forge a reputation as someone who was cutting edge and ahead of sports science and psychology. I had done all that before, through an introduction to sports science when I was 20. I learnt a lot before it became fashionable. Sam's reputation was that he was ahead of the game, but lots of other people were doing it.'
International recognition came at the age of 21 when Farrelly was called up to play for Ireland. He would go on to win just six caps in total, a figure that still rankles, even if the reasons remain unclear.
With a little hesitancy, he says: 'Youth is wasted on the young sometimes and there were other opportunities for caps that I would now [handle] differently but that you don't give too much thought to at the time. I would have liked more – if only for the after-dinner speaking, where people always quieten down when they mentioned the caps.
'I had a brilliant time at Ireland and huge respect for [manager] Mick McCarthy. There were lots of different times that could have been slightly different – that's a fudged answer.'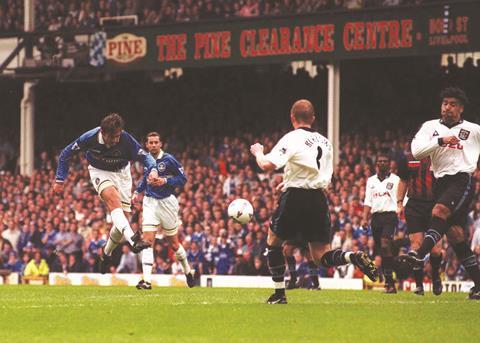 Farrelly was at Bolton for five years and achieved that coveted promotion, but another clash with management saw him embark on a nomadic existence, with short-lived moves to Burnley, Rotherham and Bradford: 'I went to Bradford but I felt more like an Eddie Stobart lorry driver than a footballer. I was commuting five hours a day in the car, which is not conducive to playing professional sport. In the third month I pulled a hamstring.'
Still there was no thought of a career after football, but Farrelly was showing signs of not following convention. He took on a player-manager role in his native Ireland aged just 28 ('stupid – there is no other word for it') then found himself stranded when he moved to Blackpool and then Cork City.
FIFA, football's governing body, had a rule banning players from registering for more than two clubs in the previous 12 months. Farrelly, along with fellow Irish international Colin Healy, formed the so-called 'FIFA Two' and took the case as far as the Court of Arbitration for Sport. Looking back, the seeds of a legal career may have been sown then.
'We put up a really good case and lost convincingly – ironically the case was only heard seven days before we were able to play anyway.
'It was fascinating and brought about a rule change. I got no fame from it but in Cork they were saying "free the FIFA Two".
'It piqued my interest – you were dealing with regulations you have no knowledge of. When people speak to you, you don't understand it, you have a vague gist of what they're relating but you don't know how to put it together.'
Farrelly would encounter the law again when he sued Cork City for unpaid wages after he had suffered a serious illness. The dispute was ended by mutual consent. It was around this time that he thought seriously about a life outside football.
'I had made peace with the fact there was always going to be a risk around me and I started to think I wouldn't be able to play forever. I was still only 32 and thought I fancied doing this. That was when my interest in law came – it was as simple as starting to Google things. There was no innovative career guidance, it was not that the Lottery finger came down asking for me.'
While team-mates went away on summer holidays, Farrelly took a six-week course to get him back up to speed with education. He passed and was offered a place on the LLB. It was a culture shock for someone who admits he struggled even to send emails at the time, but Farrelly found the legal community welcoming and understanding of his needs.
'As a mature student it is a little bit different because you are more comfortable asking for help or you are aware of what your weaknesses are. There was support, as I was able to say at any given time "I am good with this or not good with that',' he says.
Now 42, he has returned to his roots with a secondment from Peters & Peters to Everton, where he helped work on the high-profile transfers of £75m Romelu Lukaku and Wayne Rooney over the summer. He is open-minded about his future, but reserves praise for his 'terrific' employer: 'It is a specialised firm with some incredibly bright lawyers – completely wasted on me – but a great environment to learn.'
As he makes his way through the corridors of Goodison Park, he gets the odd look from older fans curious why their former midfielder is walking with a briefcase in hand. Equally, some do not realise they are passing the man who helped keep them in the premier league.
'[Being recognised] is really nice, but younger people haven't a clue who you are. I am quite comfortable with the fact I was a footballer. We have had some laughs with people who are asking "how has he got in here?"'
Biog
Born Dublin, 1975
Education Left school at 16 to join Aston Villa
Firm Peters & Peters
Known for Playing professional football for clubs including Everton, Bolton and Burnley, and winning six caps for the Republic of Ireland. Returning to Everton on secondment from Peters & Peters