Racism remains pervasive in our society, says Leslie Thomas QC, Gresham College's new professor of law. Eduardo Reyes hears how lawyers have a responsibility to combat it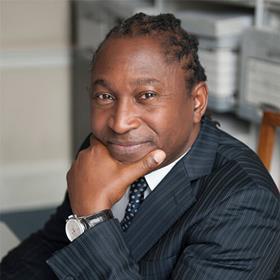 BIOG
BORN: London
EDUCATION: Kingston University, London, LLB;
YEAR OF CALL: 1988
ROLES: Public law and human rights barrister, former head of chambers, Garden Court; member, Bar Standards Board; QC, 2014; Gresham College professor of law, 2020
KNOWN FOR: Actions against the police and public bodies; high-profile public inquiries and inquests
'When you go out,' Leslie Thomas's mother told him, 'you have to be careful, you have to be respectful to the police.'
We begin in London, 1979. Thomas, today a silk and veteran of some of Britain's most high-profile inquiries and inquests, is 14 and in school uniform. He is walking home from school. A Special Patrol Group (SPG) van pulls up beside him. An officer asks Thomas where he has come from and where he is going.
'Remember,' Thomas tells me, 'I'm in school uniform!'
Thomas asks why he has been stopped. He is told he 'fits the description of someone who's been involved in a burglary. We want to search you'.
The SPG had a wide-ranging remit to target areas of serious crime, working independently of local patrols. This was a dispensation that its officers were known to routinely abuse through the use of stop and search and during the policing of demonstrations. Their distinctive vans were nicknamed 'meat wagons'.
'One of these officers goes to make a move to put his hands into my pocket,' Thomas recalls, 'and even at that age, I knew that you don't let the police do that… And I remember saying to him, "No, I'll turn my own pockets out." And the mood changed. He became extremely hostile.'
Thomas was patted down and told to go on his way.
One fear for mixed race couples was encountering a group of skinheads who would just blatantly chase you down the street
Such experiences, he says, are still not well understood by his 'white counterparts' in the legal profession. 'None of them will have experienced that,' he says, 'but that is the experience of so many young black men.'
The racism of that time was routine and open – it was the high watermark of support for the National Front – and his experience with the SPG is one of many stories he can relate. While still at school, Thomas's girlfriend (later his first wife) was white.
'We used to be regularly abused on the streets of London… because we were a mixed [race] couple,' he recalls. 'One fear for mixed race couples was encountering a group of skinheads who would just blatantly chase you… down the street. And if they caught you, give you a bloody good hiding. And that was daily life in London.'
But if such humiliations were his experience on the streets, school was different. 'From a very early stage when I was at school and I saw kids being bullied… it troubled me, and I used to step in and help people I thought were vulnerable.'
Journey to the bar
Looking back, Thomas says, his encounter with the SPG fused with this longstanding sensitivity to injustice. From that point on, he aimed for a legal career.
Thomas did not have the A-level grades needed for a law degree at Kingston, but those were the days when more higher education places involved candidate interviews.
'They asked me why I wanted to do law, and I told them why and how I wanted to make a difference and change the world. And they took me on. They gave me an unconditional offer, which I accepted, which was pretty much unheard of in those days. They saw something in me and gave me a chance. And when I got to Kingston, I just thrived, I loved it.'
He repaid the chance Kingston gave him by finishing second in his year.
There were very few black students at Kingston in the 1980s – just five of the 80 people on the LLB. Of the 80, he observes, 'interestingly, of the six who decided to go to the bar, four of us were black… there was something about the bar, the independence of the bar, that had an attraction to the black people in my year'.
Throughout our conversation, Thomas pays generous tribute to the people who have been helpful in his legal career. His law professor, employment lawyer Robert Upex, is one. Upex helped Thomas find his first pupillage. It was a 'quasi-common law commercial pupillage'.
'My first pupil master, a man called David Rickston, was fantastic,' Thomas says. 'He took me under his wing and taught me everything that I knew in relation to drafting. He just used to throw contracts and everything. And I loved the learning that I had under his tutelage.'
But as Thomas reviews his career, his time spent on commercial law and acting for corporate clients is an outlier. Such work did not address the underlying injustice symbolised by the errant conduct of those SPG officers towards his 14-year-old self. The realisation came in a personal injury case.
'My supervisor was representing a large chemical company which was involved in a large personal injury claim where somebody had been blown up at one of their plants,' he recalls. At a without prejudice conference to negotiate a settlement, Thomas 'walked in and on the other side was the widow and her lawyer. And they were very much the small people, and then on our side we had a team of suits… I felt completely out of my depth. Not in terms of the law, but just in terms of the corporate discussions going on between the people. They were speaking in a language, in a code, you know – "Did you go to this club?". It was a language that I felt completely on the outside of. And I felt very alienated by it.'
Criminal defence… representing people alleged to be terrorists and people who have been abused by the police. This was at the time when that sort of work was not popular
His supervisor was, he says, 'a really good man' and 'did not negotiate hard' in this case. Nevertheless, Thomas says: 'I remember being at this "round the table" meeting and looking at the widow, and looking at the widow's lawyer, and it just struck me – I'm on the wrong side.'
What solicitors can do
Leslie Thomas is a member of Inner Temple's diversity and inclusivity panel sub-committee. He says solicitors have a special role to play in promoting diversity and equality in the legal profession. Solicitors, he notes, are also coming under increasing pressure from clients to address the profession's record on diversity.
'It is solicitor firms who are having direct contact with clients,' Thomas points out, 'clients who are diverse. Many clients are going to move to a stage now, where they're going to insist that certain protocols are in place with solicitors. To ensure that, "if you're not diverse, then we're not going to instruct you".
'Many American companies now have systems where they won't instruct certain law firms unless they can show that they have a degree of diversity.'
He adds: 'I think the power of the market will make a difference, sadly, because it would be great if it was the ideology that moved us, as opposed to purely economic factors, but hey, we live in the real world.'
Thomas started volunteer work at central and south London law centres and at the National Council for Civil Liberties (now Liberty) 'to ease my soul'. At Liberty's Christmas party he struck up a conversation with barrister Lord Gifford, who asked why he was at a commercial set when his interests clearly lay elsewhere.
'I want you to come to my chambers and meet some people,' Gifford said. The meeting, at Gifford's set, Wellington Street, turned into an interview and an offer to join.
The setup was tailor-made to turn the head of an idealistic young lawyer. 'Wellington Street was considered a radical left-wing, agitating set of chambers – the first set of chambers that moved outside [the Inns]. They had a fee-sharing agreement, so they pooled their income. They would pay paternity and maternity leave. They paid sickness benefits to members. They paid into a pension. It was very progressive.'
And then there was the work itself. 'Criminal defence… representing people alleged to be terrorists and people who have been abused by the police. This was at a time when that sort of work was not popular. It was frowned upon,' Thomas says. 'Wellington Street represented the miners in the miners' strike, they represented the Birmingham Six, the Guildford Four, all these big cases.'
Thomas was there just over a year before his 'world came crashing down'. Gifford left for Jamaica to work on death row cases and the chambers splintered. Thomas was among the barristers who went to Garden Court, where he is about to celebrate 30 years. In January, he stood down as head of chambers. His career has seen him instructed in some of the UK's most high-profile inquests and inquiries – the New Cross Fire inquest, the Mark Duggan inquest, the Hillsborough inquest, the Birmingham Pub Bombings inquest, and the Grenfell public inquiry.
'I knew a little bit about Garden Court,' he says. 'One thing that impressed me was they had a clerk who looked like me. The only black senior clerk, at the time, in the Temple, Colin Cooke. And they had a number of impressive black barristers. One of them, who just blew me away, was the amazing Courtney Griffiths QC.'
Griffiths was not a QC then, but took Leslie under his wing: 'He became my mentor and was extremely generous. I owe that man so much because everything that I know in terms of cross-examination skills, he taught me. And how to take the police on and take the police apart. Those skills I learnt from Courtney.'
As a barrister, Thomas got to turn the tables on the type of police officer whose prejudices he had experienced as a boy in south London. 'When I started doing the police misconduct cases, I had a number of cases where officers were accused of using the N-word to my clients. You hear less of that today. But the racism is still pervasive,' he says.
One example, Thomas says, is the case of Christopher Alder. Alder was a former British Army paratrooper who died while in police custody in 1998. His cause of death was postural asphyxiation.
'We did his inquest in 2000, and his death was captured on CCTV,' Thomas recalls. 'The first time I saw the death of Christopher Alder on tape, I shed tears. The jury, when they first saw it during the inquest, they shed tears. The death of Christopher Alder was as powerful as the death of George Floyd. You hear him gurgling, you see him half-naked on a cold custody floor, you see police officers around him, not looking at him, stepping over him, as if he was a dog, and you hear him take his last gasp of air and he dies, and that's when they panic, and go into rescue mode.'
It is these threads that have run through his childhood and career – racism, police conduct, death, the behaviour of the state, and the position of victims' families – that came together in his application to become Gresham College professor of law. The 400-year old London institution's work is focused on free public education lectures, 2,500 of which are permanently archived online.
'The right to a fair trial' … is rendered utterly meaningless and sterile if you are black but never get to trial because you are killed by law enforcement agencies
Thomas secured the appointment with a lecture series which, in year one, focuses on 'Death, the State and Human Rights'. The college chose Thomas before the death of George Floyd prompted worldwide Black Lives Matter demonstrations – but the announcement came after. In the Gresham College press release, Thomas stated: 'If George Floyd's brutal and racist death teaches us anything it is what the black community have strongly suspected and complained about for decades – namely for all the lip service society pays to a cold legal concept such as "the right to a fair trial", this is rendered utterly meaningless and sterile if you are black but never get to trial because you are killed by law enforcement agencies.'
In the case of Alder a prosecution was brought against several police officers, but the judge determined that there was insufficient evidence for the trial to proceed. The difference between Alder and Floyd, Thomas says, is that in Alder's case: 'That video was never made public. If it had been made public, there would have been, I have no doubt about it, a very different reaction in relation to policing in this country.'
Smartphone technology helps, he adds – videos give black people's stories credibility, something which he has struggled to gain even when relating his own experiences to white colleagues.
'When I used to speak about this,' he says, the response was 'disbelief that that can happen' or an assumption that 'you must have done something'.
Then there is the position of victims and their families in inquests and inquiries. Here, Thomas argues, power and resources are weighted against them. In the Grenfell Inquiry, he notes, victims and families he acts for do not even have a voice through him as their counsel.
'A strong criticism that my clients have of the process,' he says, 'is that we, the lawyers, are not being permitted to ask questions of the witness. We can submit the questions that we want asked to the inquiry team, but we can't ask them. So, we can't cross-examine, and they feel completely disconnected from the process.' He says the limited availability of legal aid in Grenfell underlines the need to make 'legal aid automatic in cases where the state kills one of its own'.
Many have observed that, in the response to George Floyd's death, something feels 'different this time'. What's Thomas's assessment? 'There was something different here,' he replies, 'and I've been asking myself, over the last seven days, what is it, because this isn't dying down.
'You know what it comes down to, what is really different on this occasion? The world saw, with its own eyes, a black man being horrifically murdered before their eyes, under the knee of a white police officer, with other white police officers around him, holding him down. That black man begged for his life, and called upon his dead mother, and if you cannot be moved by that, there isn't anything that's going to move you. With the… cell phones and videos we all have in our hands, that has made the difference because it hasn't been suppressed. You can't shut it up.'
Leslie Thomas's first Gresham College lecture, Does The State Really Care When It Kills You? is on Thursday 1 October 2020, 6pm to 7pm (click here).