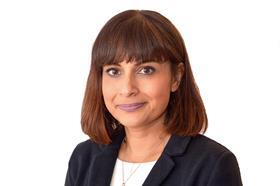 Leeds Law Society's Diversity and Inclusion Conference, in association with the Law Society of England and Wales, provided an opportunity to focus on the continuing need for a more modern, diverse and inclusive legal profession. Virtual sessions spread over six days featured topics including gender, social mobility, race and ethnicity, and disabilities.
Disabilities
Dr Natasha Hirst spoke about the findings of research carried out by Legally Disabled, which investigates and reports on the career experiences of disabled people working in the law.
'The lived experience I've had as a disabled person has fed into the research,' she said. 'We wanted to highlight the untapped talent of disabled people in the legal sector, and the barriers preventing disabled people from coming into the profession and progressing into senior positions.
Diversity is the 'what', whereas inclusion is the 'how'. Inclusion ensures that everyone is given an equal opportunity to contribute to every level of workplace or society

Inez Brown, HCR
'The initial research was published in January 2020 before the pandemic, and was updated later in the year to take on board people's experience of Covid.'
A key finding of the second research paper was the impact of remote and flexible working during the pandemic, she said: 'Our initial report had found that traditional working practices within the legal sector created a culture and set of expectations that inherently created a disadvantage for disabled people.'
Before the pandemic, flexible working had been the 'reasonable adjustment' most often requested, but also most often denied, she added. Reasonable adjustments are important for disabled people as they allow them to work in a way that is best for them, in order to reach their potential and achieve their targets, she noted.
'The pandemic has shown us that there is a completely different way of working, and that it can work. It is productive and effective, but it is important to ensure that people have real agency,' she said.
Dr Hirst acknowledged that remote working does not suit everyone: 'It's important for employers to work really closely with disabled staff in terms of what works.'
Progression into senior positions was another issue highlighted by Legally Disabled: 'We need to support disabled people to continue to progress; having a quota for training contracts is not enough by itself.'
She noted that there is much that the legal profession is doing well: 'Organisations and employers want to be doing the right thing but need to be shown how to do it, and that is what we are trying to respond to in working with the Law Society.'
The only way to create change is to acknowledge that it is a long-term process, working closely with the people who have the lived experience and who know what is needed, Dr Hirst concluded.
Conservative peer Kevin Shinkwin spoke about the large gap in awareness when it comes to reference sources for legal obligations relating to disability discrimination at work. 'The sector has the ambition and the resources, but progress is not happening consistently or quickly enough,' he said. 'Companies need to get better at joining the dots.'
The Q&A session that followed saw panellists provide tips for creating a modern, diverse and inclusive profession.
Shama Gupta, associate and D&I ambassador at Freeths, and Law Society Social Mobility Ambassador, spoke of the importance of tone and culture, and implementing 'heart-led' policies by reaching out to staff. 'Remember, you're dealing with human beings,' she said. 'Listen to your staff, and change practices accordingly.'
Law Society diversity and inclusion adviser Chris Seel highlighted the Society's recently published best practice guidance for reasonable adjustments in organisations, created by the Lawyers Disabilities Division Committee alongside the research team at Legally Disabled.
'The background to the guidance is that people didn't know enough about reasonable adjustments,' said Seel. 'We wanted to address that. It's not theoretical, it's what firms are actually doing. Thirty-four law firms, large and small, gave us their insights on what was working and what was not.'
Social mobility
'Diversity is about empowering people in terms of what makes them different,' said Inez Brown, partner at HCR, when starting the social mobility session of the conference. 'Diversity is the "what", whereas inclusion is the "how". Inclusion ensures that everyone is given an equal opportunity to contribute to every level of workplace or society.'
Brown, president of Birmingham Law Society in 2019/20, spoke of the diversity and inclusion (D&I) scheme she set up last year at the Society, supported by the University of Wolverhampton and the University of Law. This offers scholarships to students who have not been able to complete their traineeships.
I. Stephanie Boyce, president of the Law Society of England and Wales, and the first person of colour to hold the position, highlighted the 'still significant differences between the socio-economic make-up of the profession and that of the wider working age population.
'Solicitors are much more likely to have attended independent fee-paying schools; 23% of the profession has attended such schools, compared with 7% of the working-age population. In the largest commercial firms this proportion is closer to half,' she said. 'Additionally, while in the wider working-age population, only 37% come from professional backgrounds, in the legal profession this figure is 59%.
'The Bridge Group research on leading law firms found that those from lower socio-economic backgrounds progress at a slower rate than those from higher socio-economic groups, despite outperforming their peers at trainee level,' she added. 'This effect was compounded if they were women or minority ethnic. We still have further to go to increase social mobility and reflect the society we seek to serve.'
Boyce spoke of the Law Society's initiatives to promote further social mobility including its social mobility ambassadors, as well as the Diversity Access Scheme which 'supports talented, aspiring solicitors from less advantaged backgrounds, providing them with scholarship funding, work experience and mentoring. To date the scheme has supported nearly 250 talented individuals to pursue their career ambitions in the law, providing a pathway to those who may not have been able to pursue their ambitions otherwise'.
'The data is really stark in the legal profession,' noted Nik Miller, chief executive of the Bridge Group.
'The legal profession is one of the least diverse there is. The attributes required in the law to get ahead – such as polish, visibility, self-promotion, social and cultural connections, leveraging your family and university networks – all of those things are not particularly related to job performance and are, critically, not neutral in relation to background,' he said. 'Middle-class attributes and narrow definitions of cleverness are often conflated with people's idea of talent and what makes a good solicitor or lawyer.'
Race and ethnicity
Dawid Konotey-Ahulu started the ethnicity session by speaking about the 10,000 Black Interns initiative of which he is co-founder. This programme aims to give black graduates and those who have completed their A-levels opportunities to do paid work experience across a wide variety of sectors.
'Out of 3,000 portfolio managers, 12 are black. Guess how many black people are in the FTSE 100? Take a guess. It starts with a "z" – zero. We wanted to change that, so we went to 100 asset managers and asked them to take on one black graduate, and they all said "yes".'
Diversity, equity and inclusion (DEI) efforts in the US have become increasingly sophisticated, said Sandra Yamate of the Institute for Inclusion in the Legal Profession: 'Last year in the US, we suddenly saw law firms rolling out a different kind of diversity programme with more emphasis on social justice, which had really been almost invisible prior to the pandemic. The US DEI community started to feel cautiously optimistic that our work would not be decimated.
'And then it all changed again, because violence became part and parcel of the conversation,' she added, referencing the deaths of Breonna Taylor, a black medical worker who was killed by police officers during a botched raid in March 2020, and George Floyd, killed during an arrest in May of the same year.
'Corporate clients suddenly began to issue statements to support Black Lives Matter, and law firms began to feel pressure to follow the lead of their clients and also issue statements. And, because of the role of lawyers in the justice system, the legal profession suddenly felt under increased scrutiny.
'We like to think about the law as being above everyone, but what we are starting to understand is that law in the US has frequently been used to reinforce notions that people of colour are somehow inferior or lacking in the same rights and privileges as other Americans. We are starting to see some hard conversations going on, which I think are going to be critical.
'We need to address that we do still have racism in law firms,' she added. 'With Asian lawyers, we're finding that they are going to the right law schools, they are being hired, but they don't transition to partnership.'
'It's not just about mentorship,' added director of Leeds Law Society, Itohan Odekunle. 'It's about someone who already has a seat at the table, who's willing to spend some of their capital, and say: "This person has a good chance of delivering our objectives and growing our business and making us more profitable. They might not look like any of us, but really truly we need some colour at this table."'
Konotey-Ahulu picked up on the need for accountability and transparency across organisations. 'With privilege comes responsibility,' he said. 'If you're a senior partner in a law firm you have privilege, and you need to fix this issue. It's not for HR or black people in the firm, it's on you to fix this. You are the head of the firm; you run the show. It's about people stepping up.'
If you're a senior partner in a law firm you have privilege, and you need to fix this issue. It's not for HR or black people in the firm, it's on you to fix this

Dawid Konotey-Ahulu, Redington
Law Society D&I adviser Sarah Alonge referenced the race for inclusion research carried out by the Law Society in 2020, alongside the Ethnic Minority Lawyers Division, aimed at understanding the experiences of black and ethnic minority solicitors at different points in their careers.
'The research didn't tell us anything that we didn't already know, but it did reinforce some of the things that we did know and highlighted some of the areas that we didn't realise were so bad,' she said.
The BAME experience varied across different parts of the group, she said. 'The experience of Asian and black lawyers is very different, for example, when entering the profession. The research also highlighted the under-representation of black solicitors in the profession. It also highlighted the disparities between ethnic minorities and their white counterparts when it comes to mental health: 24% of black, Asian and ethnic minority solicitors reported severe or extreme levels of stress compared with 18% of white solicitors.'
Lubna Shuja, vice president of the Law Society, concluded the session and the conference by urging the profession to 'tackle and remove the inequalities and opportunities within it.
'We must look inward to tackle gaps that can hold people back in their careers and affect their long-term prospects. We must do more to change the culture of the profession and to ensure that we are valuing the perspectives of everyone around us.'
Maria Shahid is a freelance journalist