Legal tech has been a buzz term for a while, but it has also grown into a community and a movement. I had the privilege of participating in the Legal Geek North America Conference in Brooklyn, New York, which brought together the US and UK legal tech communities. Back in the UK, legal tech start-up incubator and community Barclays Eagle Lab celebrated its first anniversary.
Woodstock for legal
Mark Cohen of Legal Mosaic described Legal Geek as 'Woodstock for legal'. Cohen attended the original Woodstock and he explained that it was seminal because it was the first music festival that was not just about the music – it was the start of a movement. Similarly, Legal Geek is not like other legal or legal tech conferences, because it is not just about technology; it is a community for sharing perspectives and experiences in and around legal tech, questioning the status quo and flagging up the potential for tech to bring positive change.
Here I should declare an interest because I spoke at Legal Geek – and that makes me part of the movement – so I am reporting as a participant, not just an observer.
Legal Geek is about celebrating difference. 'Law has changed from being all about lawyers. Now data, tech, economists, social scientists, entrepreneurs are as central to legal delivery too,' said Cohen. And unlike conventional legal and legal tech conferences, Legal Geek is not about selling. The focus is on making connections and learning from each other in a positive, friendly environment. Legal Geek has a published ethos around mutual respect. This is not just altruistic: networking is one of the fastest and most effective business drivers.
TED-style talks
As there were 60 speakers delivering short TED-style talks, I can only cover a selection. However, Legal Geek's key themes focused on connecting the dots between legal and legal tech.
Adapting to a different ecosystem
Eva Bruch, a digital transformation consultant from Barcelona, explained how deregulation has opened up national markets for legal services. In Spain, while national firms still top the revenue league tables for legal services, the Big Four accountancy firms have overtaken 'Big Law', partly because of their pricing model, which reflects consumer-facing services. For example, KPMG Impulsa does tax and accountancy work for small businesses, processing 20 invoices a month for €64.50. How long will it be before law firms have to compete with similar legal offerings? Bruch advises firms to identify which processes can be automated and start streamlining now.
Karl Chapman, founder of EY Riverview Law, and Susan Hackett of Legal Executive Leadership gave a hilarious presentation on a serious topic: as automation and artificial intelligence (and consumer models) take over lower-level legal operations, law firms need to focus on the lawyers. This means defining higher-level work; which is not just about technology freeing up lawyers for more stimulating work. Law firms do not exist for the benefit of lawyers. Their strategic business case is focused on value: identifying and developing the skills that law firm clients are paying premium rates for. These might include: exercising judgement (informed by data, expertise and experience); advising on risk; leading collaborative teams; creating resources; and training the next generation of lawyers.
Chris Bentley, managing director of the Legal Innovation Zone and the Law Practice Program at Ryerson University, Toronto, compared (unfavourably) the journey to access to justice with the journey to the moon. Digitising legal services so that they deliver effectively needs milestones and deadlines in order to achieve measurable results that make a difference.
Incentivising engagement
Many speakers (myself included) identified engagement and adoption as fundamental challenges. Lucy Dillon, chief knowledge officer at Reed Smith, described how she introduced an incentive programme to engage lawyers in innovation. The true innovation here was Dillon convincing a big international firm to shift the limiting framework of billable hours to give lawyers space to be creative. Reed allows each lawyer to bill 50 'innovation hours' a year. Although Dillon was worried that lawyers might use this to pad out their hours, they did not. Engagement with innovation projects has grown exponentially.
Uber's frictionless service inspired me to create invisible processes to improve user experience in law

Jeroen Plink, Clifford Chance Applied Solutions
Designing and refining user experience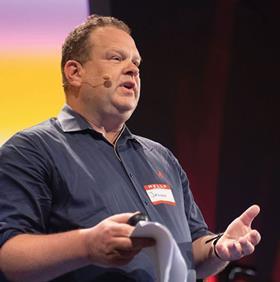 Jeroen Plink, CEO of Clifford Chance Applied Solutions, said that Uber's frictionless service inspired him to create invisible processes to improve user experience (UX) in law. This was followed up in the making and designing session by Nicole Bradick of Theory and Principle, who advocated replacing bad design with better design incrementally because lawyers are uncomfortable with change. Other speakers referenced these cultural barriers to change and offered guidance on how to get lawyers into designing legal solutions. There were plenty of interesting ideas, but this theme blurred the boundary between innovation as 'ideation' and product design, which is a separate discipline. Surely the purpose of well-designed legal tech is to make it easier for lawyers to do lawyering – and perhaps inspire them to think innovatively.
Getting the legal into legal tech
Several speakers referred to the need for legal tech to adopt legal standards and set its own standards too, perhaps in a similar way to the Accord project for blockchain. Joshua Lenon, lawyer in residence at Clio, started by asking legal tech converts/entrepreneurs to stop apologising for being lawyers – legal tech needs lawyers. He then highlighted the need for legal tech to embed legal standards. This is an important direction given the involvement in the past year or so of various government and other institutions in advancing the cause of legal tech. Tim Pullan of ThoughtRiver advocated standardising legal definitions, while Jim Brock of Trustbot used blockchain to create an open-source protocol for automating standard non-disclosure agreements. All of this reflects legal tech's shift to the mainstream.
Eagle soars
Barclays Eagle Lab, in partnership with the Law Society, celebrated its first anniversary on 2 July. Talks from Stephanie Pagni, (general counsel at Barclays UK), Chris Grant (head of LawTech innovation at Eagle Labs) and Fiona Rutherford (director of access to justice policy at the Ministry of Justice) were followed by tech demonstrations from lab residents. These showcased commercial ventures, rather than access to legal services, which Rutherford highlighted in her keynote. Nonetheless, it was encouraging to see start-ups combining cross-domain skillsets into successful-use cases for machine-learning, natural language processing and advanced data tools, many of which interface with mainstream applications such as DocuSign (electronic signatures) to achieve seamless, integrated, paperless legal processes. Participation in lawtech incubators supported this by giving start-ups access to legal data, and the lawyers and business professionals who use legal software.
Three lessons in 'scrappiness'
Mike Suchsland, board member, adviser and angel investor (and former president) of Thomson Reuters' legal business, shared three takeaways around the 'scrappiness' of the start-up journey, illustrated with examples from his experience. He invited the Legal Geek community to invent the future; manage the present; and forget the past.
Best of British
Legal Geek followed up its conference with an event at the British Consulate, where Antony Phillipson, British consul general in New York and HM trade commissioner for north America, introduced a showcase of British legal tech start-ups. Phillipson said that the UK is a true leader in lawtech and has the highest number of lawtech firms in the EU – three times as many as its nearest competitor Germany. He referenced the government's industrial strategy, which is funding a project on unlocking the potential of AI for law, as part of its commitment to helping the UK stay at the forefront of innovation. He invited UK businesses looking to break into north America to contact the UK's Department for International Trade, which offers practical advice and support.
We then heard from four UK start-ups/scale-ups. ThoughtRiver applies natural language processing to risk management, by surfacing insights from datasets. Crowdicity is a collaboration and co-creation platform that connects the dots inside organisations to foster and facilitate innovation. Avvoka and Clarilis are document-automation offerings, but while Avvoka delivers efficiency and consistency across volume document generation, Clarilis is designed to generate large suites of more complex documents, for example in connection with corporate deals.
The panel discussion that followed touched on the adoption challenge, particularly around document and contract automation. As Clarilis co-founder James Quinn observed, document automation is a mature technology that is being reimagined for the 21st century: 'The problem is that there is a massive legacy – if people have had a bad experience with document automation, it is harder to convince them to try again, but this is changing, and people are waking up to its benefits.' This is where incubators are helping. Avvoka joined Allen & Overy's Fuse, which led to its adoption by the firm, and Clarilis is the only document-automation offering in Slaughter and May's Collaborate programme, and is also partnering with TLT LegalSifter. This flagged up another opportunity, for start-ups with complementary rather than competitive offerings to work together and perhaps pitch together as it becomes harder to break into the increasingly crowded legal tech market.
The author would like to thank Jimmy Vestbirk and the Legal Geek team