Firms should start their renewal process earlier this year, says Steve Holland.
The 2016 professional indemnity renewal season will be another benign one. The market is looking much more stable once again, with unrated markets all but removed from the equation and post-recession claims fading. This is in line with the trajectory established in 2015, with fairly static premiums set against increasing gross fees for many firms.
Existing A-rated insurers have plenty of capacity. Moreover, there is the possibility of further new rated markets looking for market share, following a number of interesting underwriter moves to insurers who have not previously underwritten solicitors.
With an estimated third of the profession now renewing away from 1 October, pressure on the market has abated. The result is that firms should receive quotes well in advance of renewal – provided of course they do not submit their application too close to the deadline.
Firms should start their renewal process earlier than usual, due to the additional duties imposed by the implementation of the Insurance Act 2015, which comes into force on 12 August. The act replaces the old 'duty-of-disclosure' obligation with a new duty, described as a 'duty of fair presentation of risk'.
Furthermore, the act introduces a more structured requirement of enquiry to ensure full disclosure of all material facts. It will be necessary to identify senior management, people in decision-making roles and people responsible for arranging the insurance. These individuals and other parties will form part of the obligation to undertake a reasonable search of information. Your PII broker should be providing guidance on these new duties so that you are able to fulfil your duty to make a fair presentation.
A trend during the past few years has been for insurers to offer early renewal terms to their best performing clients. The benefit for insurers is that this process enables them to secure renewal on more straightforward firms, thus allowing more time to concentrate on the challenging and/or poor-performing practices.
The benefits to practices are early certainty of renewal terms and, typically, a shorter proposal form. Premiums are often quoted 'as expiry', which at face value is likely to be worth considering. Whether these offers are, in fact, good value will depend on how the terms compare with others. To help make an informed decision, a specialist broker will be able to benchmark the premium against peer firms with similar profiles. In this way, the decision of whether to accept an early offer will be easier.
Claim trends
We see a consistent pattern in the common causes of claims. The chart below shows areas of claims on our solicitor portfolio since 2010.
Residential conveyancing remains number one of the top 10 work areas that attract the most claims notifications. It represented over a third of all notifications – and when combined with commercial conveyancing, the proportion arising from property work is 45% of all claims.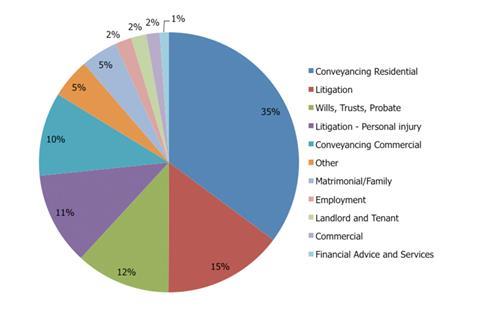 Claims notifications by work area
This trend has not really changed that much since the days of the Solicitors Indemnity Fund when claims statistics showed that 50% of all claims were property-based. A worry for some insurers is the recent rush of buyers to beat the 1 April 2016 deadline to avoid the higher rate of stamp duty land tax on second homes.
It has been reported that many conveyancing departments were working at full stretch. The pressure of work may lead to a spike in claims against solicitors in the months and years to come.
A common gripe we encounter is the length of a proposal form, which appears to get longer each year. To help firms overcome some of this frustration, clients are now offered a facility to complete an online proposal form which to a large extent is pre-populated.
Steve Holland is senior vice-president of Global Professional Risks Solutions at Lockton